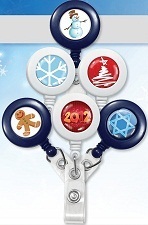 Spread some holiday cheer when displaying an ID badge, season ticket, or event pass with holiday-themed badge reels from IDCardGroup.com
West Sacramento, California (PRWEB) November 10, 2011
ID Card Group, a leading online retailer of photo ID printers, supplies, and ID badge accessories is now offering fun and affordable holiday badge reels for the upcoming holiday season and 2012 new year.
These special edition round badge reels come in an affordable 30 pack and include six holiday designs: Snowman, Snowflake, Christmas Tree, Gingerbread Man, Star, and 2012. Each 30-pack contains five of each design. Due to limited quantities, the holiday reels are only available while supplies last.
"Contrary to popular belief, displaying an ID badge, season ticket, or event pass doesn't have to be boring," says Mark Soeth, ID Card Group president. "We have many customers who get creative with their ID supplies, whether it's a custom, seasonal, or cause-related design. These holiday-themed badge reels are also perfect for winter events and festivities – they're likely to be popular at ski resorts, ice rinks, and other winter-related sporting events."
In addition to the holiday styles, ID Card Group stocks a huge assortment of quality badge reels in many styles and shapes, including round, square, heart, heavy duty, retractable, lockable, swivels, sliders, twist-free, ski and sport, carabiner, and made in the USA. Each badge reel is backed by ID Card Group's low price guarantee, as are all products and brands in the store.
Nearly any badge reel can be custom-printed with a customer's logo or special design, making custom badge reels a popular choice for promotional giveaways, special event identification, and team spirit building.
An ID badge reel typically comes in a square or round shape and fits easily on any outfit via a snap-on or clip-on attachment. The badge reel extends the ID, ticket, or pass when identification is needed, then retracts to keep the ID close to the body and out of the way. The ability to extend and retract – and freedom from a tangle of cords or lanyards – makes badge reels especially useful for active work or sporting environments.
About ID Card Group
ID Card Group offers a full line of ID printer equipment, card printing supplies, and badge accessories – from identification and access control products, to promotional products for loyalty or membership programs, to gift, payment, or phone cards and systems. Industries such as business, schools, government, military, law enforcement, healthcare, gaming, hospitality, trade shows/conventions, sports & entertainment and more choose ID Card Group for its selection, expert service, and low price guarantee. To learn more, call (877) 868-0012 or visit http://www.idcardgroup.com.
###