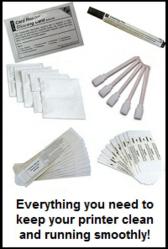 We created these value-priced printer cleaning kits to help our customers extend their ID card printer's performance and card printing quality at a reduced cost.
West Sacramento, CA (PRWEB) September 13, 2011
ID Card Group, a leading provider of ID card printers, ID systems, supplies, and accessories is now offering a cost-saving line of cleaning kits for all name-brand ID printers.
Based on years of experience selling and servicing card printers, ID Card Group has assembled a set of printer cleaning kits that work as well as the name-brand kits, but cost up to 60 percent less.
"We know printer cleaning and maintenance are easily overlooked," says Mark Soeth, ID Card Group president. "We see it all too often – cleaning is skipped and the result is degraded print quality, expensive repairs, or early replacement. The truth is a regular cleaning regime only takes a few minutes. We created these value-priced printer cleaning kits to help our customers extend their ID printer's performance and card printing quality at a reduced cost."
Each value-priced printer cleaning kit is designed to be specifically compatible with a name-brand printer. Cleaning kits are available for top brands such as Magicard, Zebra, HID/Fargo, Evolis, and Datacard. Each cleaning kit product description lists all compatible printers, so customers can be sure their model is covered.
In addition to keeping an ID printer free of debris that can build up and cause expensive damage, regular cleaning extends the life of the printer's critical parts, such as the thermal printhead, transport rollers, and magnetic encoder.
Cleaning kit contents include the following, depending upon the ID printer's cleaning needs:
Thermal Printhead Cleaning Pen – to remove ink and contamination build up
5 Cleaning Cards – in short, long, extra long lengths to remove dust and debris from the print path, including card transport rollers
5 ISO Cleaning Cards – for quick cleaning of the print path
5 Snap Swabs – to thoroughly clean the printhead
5 Wipes – to remove debris from the print rollers
In addition to its value-priced cleaning kits, IDCardGroup.com offers basic or complete photo ID printer starter kits. Starter kits simplify the start-up process for customers tasked with implementing an ID card or membership card program, yet are unsure where to begin or what supplies are required. Each starter kit is specifically created by ID Card Group to offer the best components at an affordable cost.
The Basic starter kit adds a YMCKO full-color ribbon and 200-300 blank PVC cards. The Complete starter kit adds photo ID software and a web cam for capturing photographs to the Basic kit contents. Both kits are available as optional upgrades with most ID card printer purchases.
About ID Card Group
ID Card Group offers a full line of ID card equipment, supplies, and accessories – from identification and access control products, to promotional products for loyalty or membership programs, to gift, payment, or phone cards and systems. Industries such as business, schools, government, military, law enforcement, healthcare, gaming, hospitality, trade shows/conventions, sports & entertainment and more choose ID Card Group for its selection, expert service, and low price guarantee. To learn more, call (877) 868-0012 or visit http://www.IDCardGroup.com.
###