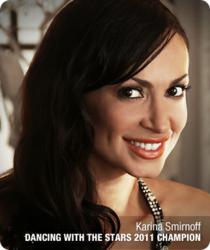 I could have gone anywhere for laser hair removal, but I chose Ideal Image
Tampa, FL (PRWEB) March 08, 2012
Ideal Image Laser Hair Removal, a national leader in laser hair removal, announces its collaboration with national dance celebrity Karina Smirnoff.
For the past six years Karina Smirnoff has made her mark as a featured dancer on ABC's hit reality series Dancing with the Stars. Her success on the show, which is the number one rated show in its category, averaging 36+ million viewers per week, has made Karina a household name and sought after beauty, health, fitness, and fashion icon. Karina Smirnoff was season 13's Mirror Ball Champion with her dancing partner, actor and war veteran, JR Martinez. In 2011 she was the most Googled professional dancer on the show.
Karina had her first laser treatment at Ideal Image Laser Hair Removal Las Vegas and was impressed with the professionalism of the facility and staff. "Everyone needs to know that Ideal Image only uses professional nurses to do the laser treatments," Karina explained in a radio interview with the local CBS radio station following her treatment, "and Emily who assisted me carefully explained everything and made me feel so very comfortable." Karina also commented, "It was quick and easy and I'm so excited that I'm on my way to never having to shave again."
In upcoming months, Karina will be calling in to radio stations across the country to conduct interviews with on-air radio personalities who also have had treatments at Ideal Image Laser Hair Removal, as well as endorsing the company. Karina will also appear in Ideal Image Laser Hair Removal television commercials.
"I'm having everything done," an excited Karina told radio personality Chet Buchanon, "my upper lip, my legs and my bikini area." Karina further explained that with today's high definition television cameras and TVs, she's more concerned than ever about how she looks for the cameras, the judges and the viewing audience.
What most people don't know about the Ukrainian beauty is that her skills are not merely physical. She studied diligently at Fordham University in New York and earned two degrees – B.A.s in Economics and Information Systems Programming. Karina is also a talented fashion designer and skilled choreographer. Karina started competing in ballroom dancing competitions at the age of 11. Among many honors, she is a five-time U.S. National Champion, World Trophy Champion and has won a variety of other dancing competitions.
Karina is considered "one of the most stylish and fit Stars in Hollywood" and has been featured in numerous publications: FHM, Fitness Magazine, LA Confidential, Muscle & Fitness, TV Guide, and Woman's World. She is a regular on the pages of People Magazine, Life & Style, US Weekly, OK! Magazine, and In Touch.
Karina stated, "Before I committed to Ideal Image, I did my research and now understand why they are the industry leaders in laser hair removal and I'm thrilled to be working with them."
With more than 70 locations, Ideal Image Laser Hair Removal is the only national company dedicated exclusively to laser hair removal. Ideal Image Laser Hair Removal's mission is to help our guests become their personal best by offering state-of-the-art laser hair removal, performed only by medical experts with uncompromising concern for our guests' comfort and safety. We continue to pioneer and research, establishing the industry standards for non-invasive full body laser hair removal procedures.
Ideal Image Laser Hair Removal is proud to offer high quality laser hair removal services for bikini, facial hair, body hair, underarm hair and leg hair laser hair removal. Treatments are administered by a degreed and licensed medical team that includes registered nurses, physician's assistants, and nurse practitioners.
###
Ideal Image is a leader in laser hair removal, and uses advanced techniques at locations worldwide for permanent hair reduction. What separates this growing business from the rest is its advancements in the industry, and passion for encouraging high standards of medical training. Ideal Image takes pride in establishing ethical practices and employing a medical staff that exhibits unyielding concern for comfort and safety.