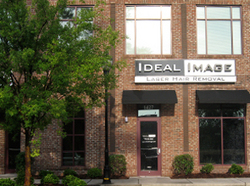 We are thrilled to welcome our newest Franchise Partner to the team
Wilmington, NC (PRWEB) August 19, 2009
Ideal Image, the leader in laser hair removal services, opened its 66th laser hair removal center in Wilmington, North Carolina on Monday, August 17, 2009. Ideal Image's newest Franchise Center is located at 1427 Military Cutoff Road Suite 104 Wilmington, NC 28403. Ideal Image now has four centers for laser hair removal in North Carolina.
Headquartered in Tampa, FL., Ideal Image has grown considerably. Over the past five years, Ideal Image has grown by 11 times the amount they had in 2004. Currently Ideal Image has both Franchise and Corporate Centers across the country. 45 are Corporate owned and 21 are Franchised. "We are thrilled to welcome our newest Franchise Partner to the team," states Dean Akers, CEO, Ideal Image Development Corp. "We anticipate the Wilmington, NC laser hair removal center to be strong right out of the gates and cannot wait to celebrate all of their successes for years to come."
This state-of-the-art location features four laser treatment rooms, two consultation rooms, a call center and a warm and inviting atmosphere with modern furniture and artwork. Ideal Image of Wilmington, NC is located in the Progress Point Strip Center at the intersection of Military Cutoff and Eastwood Roads.
"We look forward to helping the residents of Wilmington, NC and the surrounding cities to become hair-free!" -Center Director, Wilmington
Ideal Image is a leader in laser hair removal, and uses advanced techniques for permanent hair reduction at locations worldwide. What separates this growing corporation from the rest is its advancements in the industry, and passion for encouraging high standards of medical training. Ideal Image takes pride in establishing ethical practices and employing medical staff that exhibits unyielding concern for comfort and safety.
About Ideal Image®
Ideal Image was founded in 2001. Ideal Image owns and franchises laser hair removal centers, and is the number one brand leader in laser hair removal with both national and international locations. In May of 2006, Ideal Image raised $16 million in equity and debt financing from H.I.G Capital and Orix Venture Finance.
About H.I.G. Capital
H.I.G. Capital LLC ("H.I.G.") is a leading private equity and venture capital investment firm with more than $4 billion of equity capital under management. H.I.G.'s venture arm focuses on early and mid-stage information technology, life sciences and services businesses that are poised for significant growth while H.I.G.'s private equity arm focuses on investments in management-led buyouts and recapitalizations of profitable and well-managed manufacturing or service businesses.
About ORIX Venture Finance LLC
ORIX Venture Finance LLC, a member of the Corporate Finance Group of ORIX USA Corporation with offices in Silicon Valley, Newport Beach, Hartford, New York, Northern Virginia and Dallas, provides enterprise financing to mid- to late-stage companies via acquisition and growth capital. The ORIX Venture Finance team consists of experienced finance professionals who understand the challenges growth companies face and structure flexible financing packages to meet these unique needs.
###