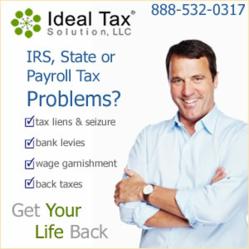 A proper mindset for the experienced tax help specialists at Ideal Tax Solution is one that encompasses an appropriate psychological perspective
Costa Mesa, CA (PRWEB) January 15, 2013
Ideal Tax Solution, LLC is experiencing validation for its continued commitment to superior customer service for delinquent taxpayers in dire need of experienced tax liability resolution. The last quarter of 2012 reflected a positive customer bias toward the company's stated policy of providing no less than the absolute best customer service to be found within the expanding professional tax relief industry.
According to the resolved cases at Ideal Tax Solution, records indicate troubled taxpayers appreciated the elevated level of conscientious attention to customer satisfaction that considerably minimized the stress factors normally associated with the tax resolution process.
From initial analysis to final phone call, it is obvious that taxpayers in desperate need of professional tax help, and, who have received support and guidance along every step of the debt resolution process, overwhelmingly welcome the added consideration afforded them during this tough time in their life.
"By the time most delinquent taxpayers have made the decision to contact us, they are desperate, disconsolate and in serious need of some professional TLC," says Murad Khatib, Senior Marketing Associate at Ideal Tax Solution. "Resolving the specific tax liability issues is only part of the solution. Providing clients the comfort needed for them to resume their normal routines is equally important."
The tax resolution industry has evolved into far more than a collection of simple 'black and white' mathematical equations. Tax liability specialists must utilize all facets of a professional debt relief process to assure adherence to proven debt resolution policies is achieved. A proper mindset for the experienced tax help specialists at Ideal Tax Solution is one that encompasses an appropriate psychological perspective, in addition to the knowledge and skills necessary to formulate a successful strategy for resolving a tax debt situation, every one of which is unique.
A multi-faceted approach to tax liability resolution must include an attitude of genuine customer service, which will guarantee nothing less than the most expedient path possible is taken to insure a prompt, effective and smooth road to resolution. Ignoring the very real and natural emotional needs of a delinquent taxpayer trying to regain their taxpayer in good standing status, is a recipe for unsatisfactory results and a blueprint for bad public relations.
"If I had to name the one factor that separates Ideal Tax Solution from the rest of the tax resolution industry, it would have to be the extreme focus we place on addressing all components of the resolution process," asserts Khatib. "Customer service is as important in our business as in any business I can think of…more so than most."
Striving to consistently achieve and maintain their status as a go-to company for professional tax relief, Ideal Tax Solution is constantly pushing the upward boundaries of exemplary customer service in an industry poised for continued growth in the foreseeable future.
About the company:
Ideal Tax Solution, LLC is located in Costa Mesa, CA and provides tax negotiation and preparation services, and is a professional collection defense company. Their Tax Attorneys, IRS Enrolled Agents, CPA's, and Senior Tax Consultants have over fifty-five years of combined experience working to help American taxpayers with the IRS and State Tax Agencies.
Original Press Release Link Can Be Found; http://resources.idealtaxsolution.com/ideal-tax-solution-llc-raises-customer-service-bar-for-the-new-year-as-consistent-demand-for-professional-tax-resolution-sparks-industry-wide-interest-18.html