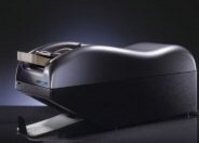 IDEAL recommends storing scanned aperture cards files on IDEAL's MyArchiveCenter.com for centralized, easy access
Rockville, Maryland (PRWEB) August 20, 2007
IDEAL.com , distributor of large format and aperture card imaging systems, announces the inclusion of the Wicks & Wilson C-250 ACS Aperture Card Scanner in their product line. The IDEAL/Wicks & Wilson ACS C250 is a cost-effective solution designed for fast, high volume scanning of aperture card based engineering drawings & scientific documents for use in conversion to CAD, archive and retrieval, and Product Data Management (PDM) applications. The IDEAL/Wicks and Wilson ACS C250 can scan ISO aperture cards at 350 cards per hour at 200 dpi and 250 cards per hour at 400 dpi.
The IDEAL / Wicks & Wilson C-250 Aperture Card Scanner features include:
Real-time Image Processing

Automatic Card Feeder for 150 cards
Hi-Speed USB
Batch Processing
Scan, print, and email file from desktop
Enhanced Imaging Tools including rotate and deskew
Reduction Ratio 7.5X to 40X
Support ISO aperture cards
Compact Design
Requires XP Pro
Direct USB 2.0 Connection
Minimum 2GB RAM
"The IDEAL / Wicks & Wilson ACS C250 offers the highest, truest resolution in its price class," says Phil Magenheim, Vice President of IDEAL.
The IDEAL / Wicks & Wison ACS 250 features resolution settings from 100 to 400 dpi. The ACS C250 has a built-in feeder which stacks up to 150 cards per session in automatic mode. The IDEAL/Wicks and Wilson ACS C250 can be used stand-alone or as an integrated component of a customized solution. The ACS C250 Scanner requires SMARTCODE, scanner operating software. SMARTCODE provides more archive accessibility allowing the user to scan, email, and print right from the desktop. SMARTCODE software allows the user to rotate and deskew the scanned image as well as apply image enhancement filters. File formats supported are bitonal TIFF, CALS , PNG, PDF and greyscale JPEG, BMP, RAW, TIFF, PNF, and PDF.
Store Scanned Aperture Card Files on MyArchiveCenter.com
"IDEAL recommends storing scanned aperture cards files on IDEAL's MyArchiveCenter.com for centralized, easy access," says Jay Magenheim, President of IDEAL.
MyArchiveCenter.com features Level 3 security as well as quick view anytime, anyplace you have access to a web browser.
Promotion Features Aperture Card Blow-back System
IDEAL's Wicks & Wilson ACS featured promotion also includes an HP DesignJet 70 to create a state of the art aperture card blowback system. This system is ideal for replacing outdated aperture card reader/printers. The Aperture Card Blow-back Systems includes:

IDEAL / Wicks & Wilson /C-250ACS Aperture Card Scanner
Scanner Software
ArchiveCenter for Workgroups
HP DesignJet 70
Level 3 secure web archive access on MyArchiveCenter.com
About IDEAL:
IDEAL.com develops, markets, and supports a wide range of large format scanning, printing, indexing, archiving, converting and editing solutions designed specifically for the AEC, GIS and Reprographics markets. IDEAL distributes Wicks & Wilson aperture card scanners and is the exclusive U.S. distributor of Contex large format scanners. IDEAL's MyArchiveCenter.com offers customers a secure, web-based centralized location to archive scanned drawings. IDEALplanroom.net provides construction customers with a secure place to manage project bids. In addition, IDEAL provides 3D CAD services for reprographers and 3D customers, via http://www.My3Dservices.com. For more information on IDEAL products/services, or to become an authorized reseller, visit the IDEAL website at http://www.ideal.com.
Contact
Kathy Magenheim
(301) 468-0123 ext.1230
# # #