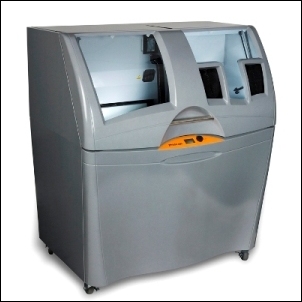 This all-in-one feature-rich 3D Printer is a huge step toward making color 3D printing accessible and affordable for every day use. Readily available 3D models can change the way people do business
Rockville, MD (PRWEB) March 5, 2007
The IDEAL / Contex ZPrinter 450 sets a new standard for office compatibility with office-safe build materials, active dust-control, and zero liquid waste. Automation simplifies printing and saves time. IDEAL.com , exclusive U.S. distributor for Contex scanners and 3D Printers, announces the addition of the ZPrinter 450 to their 3D printer product line and offers the IDEAL / Contex ZPrinter 450 Starter Kit.
The IDEAL / Contex ZPrinter 450 is the first color 3D printer priced below $40,000. It outputs precise, 450 dpi color 3D models five to ten times faster than other printers costing twice as much. The IDEAL / Contex ZPrinter 450 is suitable for Architectural, Engineering or Construction offices, as well as for companies or agencies specializing in Geographic Information Systems or other professional applications.
IDEAL adds value to the IDEAL / Contex ZPrinter 450, and all of the IDEAL / Contex 3D printer line, by providing 'printer-ready' preparation of 3D CAD files, as well as conversion of 2D CAD files or paper files to printer-ready 3D CAD files and 3D printing. This value-add makes it easier for IDEAL's dealers and their customers to get started in 3D printing. IDEAL calls it 'breaking the CAD preparation barrier,' and provides the service on http://www.My3Dservices.com.
"This all-in-one feature-rich 3D Printer is a huge step toward making color 3D printing accessible and affordable for every day use. Readily available 3D models can change the way people do business," says Jay Magenheim, president of IDEAL.com. "I truly believe that the 3D revolution has begun and that the IDEAL / Contex ZPrinter 450 and IDEAL's 'My3Dservices' website will help fuel the revolution."
With its compact foot print, and office-friendly set-up and maintenance, the IDEAL / Contex ZPrinter 450 has been designed to be a superior way to communicate the look, feel and style of architectural and engineering designs, landscapes and more.
The ZPrinter features include:
Quick load binder cartridge
Single tri-color print head
Expanded on-printer controls
Integrated fine-powder removal chamber
Closed-loop automated powder loading, handling and recycling
Easy Post Processing
The ZPrinter includes ZPrint desktop software, which offers greater control from the desktop or from the printer:
Send jobs and exchange essential information with the printer
Remotely read the printer LCD display
See real-time readings of powder, binder and ink levels, automatically monitored by the system
Expanded printer display and interface
About IDEAL
IDEAL.com develops, markets, and supports a wide range of large format scanning, printing, indexing, archiving, converting and editing solutions designed specifically for the AEC, GIS and Reprographics markets. IDEAL is the exclusive U.S. distributor of Contex large format scanners and 3D printers. For more information on IDEAL products and services, or to become an authorized reseller, visit the IDEAL website at http://www.ideal.com
About My3Dservices.com
My3Dservices.com is a website sponsored by IDEAL.com to provide file preparation services for 3D printing for reprographers and 3D model printing service bureaus, as well as for ; authorized IDEAL Dealers/Resellers, and their customers. Our goal is to provide time-efficient and cost-effective means to prepare and to heal all CAD file types making them 3D print-ready.
My3Dservices.com 3D CAD conversion services include:
2D to 3D CAD Conversion
Convert Paper Drawings and Sketches to 3D
"Printer-Ready" Preparation of 3D CAD or GIS files
3D File Healing
Contact:
Kathy Magenheim
PH: 301-468-0123 1230
Toll Free: 800-764-3325 x 1230
# # #