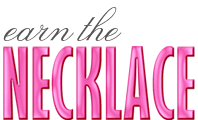 Thanks to the diversity of couples and families, age gap relationships are becoming more and more common
New York, NY (PRWEB) June 05, 2013
EarnTheNecklace.com, a revealing and engaging web site with articles written by women who exchange their stories and confessions about being in a relationship with a much older man, releases an expert opinion on a recently released survey that shows age gap relationships, where the man is older, are becoming more accepted.
For a younger woman looking for an older man, recent research suggests the ideal age gap is four years and four months older. Of the 2,000 adult respondents, just less than half said there was no ideal age gap. At the same time, 30% of women wanted to be with a man up to seven years older. Only one percent said they wanted a younger man. (Source: Confused.com press release, "Why four years, four months is the ideal age gap," http://www.confused.com/press/releases/why-four-years-four-months-is-the-ideal-age-gap, 2013.)
Interestingly, financial stability was one of the main reasons women cited for preferring older men. Other reasons for wanting to be with an older man include learning a different perspective and hoping youth will rub off on the older adult male.
"Thanks to the diversity of couples and families, age gap relationships are becoming more and more common," Bianca-Marie Coventry, EarnTheNecklace.com's content manager, explains. "This survey points out a couple of changing dynamics: that women have a resounding preference for older men; and that financial stability is one of the main motivators. But finances are not the only reason; they are also seeking companionship and fun."
"On top of that, almost 50% of women said there is no ideal age gap—just that an older man is better. In fact, over 30% of women said they would be happiest looking for a prospective life partner in the 55–70 age bracket," Coventry adds. "At EarnTheNecklace.com, we couldn't agree more. Loving relationships are formed across every age gap, whether it's with a man four years and four months older or 24 years and four months."
To learn more about Earn the Necklace, visit the web site at http://www.EarnTheNecklace.com. The site wants to hear from women dating or married to men 20 years or more their senior! And if it's a story they publish, they'll pay $500.00, with an opportunity to write more.
About the Web Site: Earn The Necklace (EarnTheNecklace.com) is a web site featuring stories written by women in relationships with much older men and that want to help other women in the same situation. The site helps women in this position understand and navigate the potential ups, downs, joys, trials, and even unforeseen consequences, all based on real-life stories from women who have been in the same situation. Plus, the web site offers other celebrity gossip and juicy stories, all geared to those who are in a relationship with a much older man.