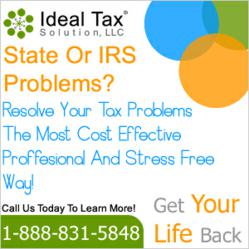 Ideal Tax Solution has recently released news that they have an all newly designed website, now publicized for the masses.
(PRWEB) February 16, 2012
Ideal Tax Solution has recently released news that they have an all newly designed website, now publicized for the masses. The website, http://www.idealtaxsolution.com, is filled with a lot of very important information needed in handling tax liabilities. It portrays a simple and easy way to understand a lot of tax terms that may be affecting taxpayers and they don't understand them. There's detailed information on items such as wage garnishments, bank levies, innocent spouse relief, installment agreement negotiations, Offer in Compromise, Penalty Abatement, high tax liabilities, foreign bank account reporting, payroll tax resolution and audit appeals. Ideal Tax Solution believes the first step in moving toward tax compliance is getting familiar with the subject. Their new website is designed to do just this. The new Q&A section provides taxpayers with frequently asked questions and detailed, informative answers to them.
There is also a services tab that lays out all the programs and available help Ideal Tax Solution can provide to the consumer. This can assist in finding what is right for the consumer. Ideal Tax Solution has also provided an updated testimonials section, sharing with other Americans looking for tax help, the assistance they have provided to others. Consumers are now able to enter in their first and last names, along with their email, phone number and tax issue, and have a tax analyst contact them to review their tax situation. This is completely free and can help give the taxpayer an idea of how to best execute their tax issues. Tax resolution companies are growing all over America as more and more Americans realize that they cannot handle their debts alone. Working with the IRS can be very stressful and frustrated when done alone, but having representation can eliminate these problems.
Ideal Tax Solution, in their Resources and Tips section of the new website, will be updating daily with news articles and information about the company. This is the best way to find the most recent tax news and to find out what is new with the company. For those seeking help and current client already on the Ideal Tax Solution team can find themselves in the loop at all times.
About the company: Ideal Tax Solution, LLC is located in Costa Mesa, CA and provides tax negotiation services, preparation and is a collection defense specialist. Their Tax Attorneys, IRS Enrolled Agents, CPA's, Senior Tax Consultants have over 55 years of combined experience working to help American tax payers with the IRS and State Tax Agencies. Ideal Tax boasts an "A" rating with the Better Business Bureau earned through providing excellent services.
###