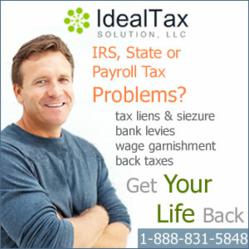 The IRS has released this years Dirty Dozen listing, which lists a variety of scams common to that year and particularly during tax season
Costa Mesa, CA (PRWEB) February 23, 2012
The IRS has released this years Dirty Dozen listing, which lists a variety of scams common to that year and particularly during tax season. "Taxpayers should be careful and avoid falling into a trap with the Dirty Dozen," said IRS Commissioner Doug Shulman. "Scam artists will tempt people in-person, on-line and by e-mail with misleading promises about lost refunds and free money. Don't be fooled by these scams." This years Dirty Dozen is as follows.
Identity Theft is the chart topper for 2011/2012 tax season. The IRS is encouraging Americans to beware of notices stating that the taxpayer has filed more than one return under a certain name or that they've received wages from an unknown employer. Report any such claims to the IRS immediately. Phishing is next on this year's list. This is a scam that is generally done by unsolicited emails or a fake website posing as a legitimate one. The emails and/or site will ask the tax payer to provide valuable financial information, as well as personal information. Return Preparer Fraud ranks in number 3 on this year's list. Many Americans use tax preparers to file their returns for them. The IRS is encouraging taxpayers to very precisely and carefully choose a tax preparer. Avoid those claiming they can give you more a refund than you know is realistic, and always ensure your return is going straight into the name of the taxpayer and not the name of the preparer. Ask to see their credentials and make sure they sign the returns and give you copies. Hiding Income Offshore swoops in a number four on the list. This is directed toward Americans who are holding assets overseas and not claiming them on their returns. The IRS has released the Voluntary Disclosure Act which promises not to take criminal action against taxpayers who come forward and disclose their offshore assets. "Free Money" from the IRS & Tax Scams Involving Social Security is number five on the list this year. Basically brochures, flyers and advertisements are being sent to Americans promising free money from the IRS and recommending the taxpayer will out a return with little or no information on it. These scams are aimed toward low income taxpayers and elderly. False/Inflated Income and Expenses meets our halfway mark on the list. In summary of it, do not claim income you never received in an attempt to maximize the refundable credits. Doing so is extremely punishable in the tax world. False Form 1099 Refund Claims is number seven on the list. This scam consists of a taxpayer filing a fake 1099 form to receive a refund they did not earn. Do not do this! You WILL get caught. Frivolous Arguments, number eight on our list, is a scam that encourage taxpayers to make outlandish claims to avoid paying taxes. Falsely Claiming Zero Wages is number nine on the list. Abuse of Charitable Organizations and Deductions is number nine on the list, and it's pretty self explanatory. This scam entails deliberately abusing the option to claim money donated to charity that was not actually donated. Disguised Corporate Ownership, number eleven, is when hird parties are improperly used to request employer identification numbers and form corporations that obscure the true ownership of the business. Misuse of Trusts, last on the list, is the act of taxpayers transferring assets into trusts to they cannot be claimed on their returns. http://www.irs.gov.
So, tax payers beware. Heed to these warnings and remember that any of these scams that are entered into knowingly can be charged with fines of up to $5,000 and jail time. Don't try to cheat the system, paying taxes is simple and necessary and there are tax resolution companies growing and expanding everyday to help those who don't wish to handle their taxes and/or tax debts by themselves.
###