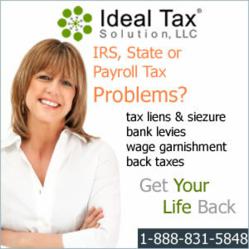 Ideal Tax Solution, a leader in tax resolution, has now announced their new outreach to charities.
(PRWEB) March 01, 2012
Ideal Tax Solution, a leader in tax resolution, has now announced their new outreach to charities. Each month they intend to contribute monetarily to a selected charity. The focus is children, worldwide, who are struggling to live. Children all over the world are suffering from a wide variety of obstacles. They vary from homelessness, starvation, disease to cancer. While there are millions of people with these same issues, Ideal Tax Solution would like to focus temporarily on the children, as they are the future.
Ideal Tax Solution wants to turn their success into giving something back. The entire premise of the business is to help those in need, and now they intend to help in other ways as well. Ideal Tax Solution has successfully resolved tax debt issues for 1,000's of client, but do not wish to stop there. Millions of people all over the world need help in their every day life. Ideal Tax Solution hopes to make a small impact in assisting such people. Along with their new pro bono program, in which they are selecting 10 cases a month to assist extreme hardship cases for completely free of charge, donating to charities is just another way to give back. Amongst these items, Ideal Tax Solution plans to start making a face in the field of charity, volunteering with different programs local to their area. Keep an eye out on their website, http://www.idealtaxsolution.com for more information on their charity work and how others can give back too.
About the company: Ideal Tax Solution, LLC is located in Costa Mesa, CA and provides tax negotiation services, preparation and is a collection defense specialist. Their Tax Attorneys, IRS Enrolled Agents, CPA's, Senior Tax Consultants have over 55 years of combined experience working to help American tax payers with the IRS and State Tax Agencies. Ideal Tax boasts an "A" rating with the Better Business Bureau earned through providing excellent services.
###