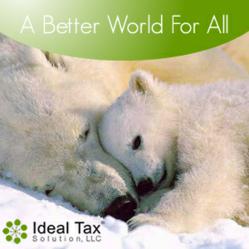 The company's emphasis on environmental responsibility and care has never failed to inspire employees and clients alike.
Costa Mesa, CA (PRWEB) September 25, 2012
Ideal Tax Solution announced today that the company plans to reduce office space by up to thirty percent starting next year. The company's emphasis on environmental responsibility and care has never failed to inspire employees and clients alike. Last year Ideal Tax Solution took the initiative to encourage the transmission and storage of documents via electronic methods, rather than conventional paper.
"Using less paper has reduced our reliance on massive spaces dedicated to file cabinets therefore allowing us to utilize our space more effectively," says Patty Laurecee, a manager of the Human Resources department at Ideal Tax Solution.
According to officials at the company, the reduction of paper usage has also benefited the efficiency of its operations. Ideal Tax Solution however, still requires hard copies of certain paper work to be on hand. The management at the company emphasizes that they will soon remove certain restrictions so that any or all paperwork can be stored via electronic methods. Ideal Tax Solution had also installed energy efficient equipment last year such as, printers, high efficiency monitors, and newer light fixtures in bathrooms that use less than half the energy of the outgoing fixtures. In addition, to higher efficiency printers, Ideal Tax Solution had also opted to use organic soy based materials for inks and toner.
The environmental impact of reducing office space translates to less space that requires heating or air conditioning, energy dedicated to illumination, and less energy used for the up keeping of the space itself. The cost savings for Ideal Tax Solution is also noteworthy due to lower expenses that go into feeding the energy requirements of the building. In addition, company officials have also expressed an interest in offering up unused offices for lease that would not interrupt operations of Ideal Tax Solution itself. The company has made significant progress in its pursuit of environmental responsibility notably this year and plans to continue making it a mantra for years and years to come.
About the company: Ideal Tax Solution, LLC is located in Costa Mesa, CA and provides tax negotiation services, preparation and is a collection defense specialist. Their Tax Attorneys, IRS Enrolled Agents, CPA's, Senior Tax Consultants have over 55 years of combined experience working to help American tax payers with the IRS and State Tax Agencies.