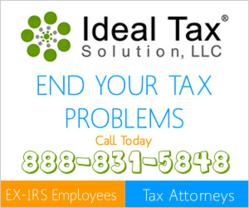 More and more Americans every day are seeking help from tax professionals to help settle their debts with the IRS today.
Costa Mesa, CA (PRWEB) September 28, 2012
Anyone can go online and search installment agreements, many people are familiar with such a term as it is used loosely amongst IRS websites. It is advertised as being simple and anyone can call the IRS to set one up themselves. While this may be true, the IRS is not going to cut any slack. Setting up an IA, as they are referred to in the tax world, includes many different aspects of qualifications. Most people are not aware of all the details and usually get into IA's that are very large and practically unreasonable.
When entering into an installment agreement, first you will need to be compliant in all your tax filings. Professional tax preparation is encouraged as back taxes will not be overlooked and are generally a huge headache to deal with. Tax professionals are now able to help negotiate a lower payment that fits better into your budget than what an individual could get working with the IRS on their own. Many people do not meet the criteria for automatic acceptance of an installment agreement. The "catch-22" in the IRS's big boast on the easy breezy installment agreement. If you are compliant in your tax filings, the second item scrutinized is income. The IRS reviews the income and can base an IA simply of off that, without knowing the ending balance after bills are paid. Getting placed into an IA helps avoid many things such as stopping wage garnishments, bank levies, IRS seizures on your home or other properties, bankruptcy, etc.
More and more Americans every day are seeking help from tax professionals to help settle their debts with the IRS today. Even options publicized by the IRS themselves as supposedly being easy are now going to require a professional for it to be done to best benefit someone. Tax filings, IRS forms, detailed reviews of how much money a person can truly spend monthly will not be catered to by the IRS. When an IA seems like a reasonably easy way to get the IRS off your back, there are now even more options available for those who qualify.
About the company: Ideal Tax Solution, LLC is located in Costa Mesa, CA and provides tax negotiation services, preparation and is a collection defense specialist. Their Tax Attorneys, IRS Enrolled Agents, CPA's, Senior Tax Consultants have over 55 years of combined experience working to help American tax payers with the IRS and State Tax Agencies.