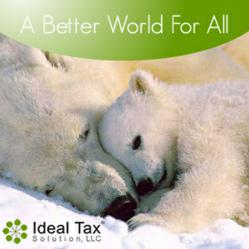 Ideal Tax Solution's pro-bono program will start on October 15th and will run for a few months just in time for the holidays
Costa Mesa, CA (PRWEB) September 21, 2012
Ideal Tax Solution, LLC based in Costa Mesa, CA has announced today that the company will offer select customers a pro-bono offer. The company has reported a very strong operating year in terms of gross and net income. The economic downturn has made it difficult for numerous Americans to break even with the IRS and State Revenue Departments. Ideal Tax Solution says that the company's success is the result of the increase of demand for its services. Ideal Tax Solution currently offers clients programs such as; wage garnishment removal, bank levy removal, offer in compromise, penalty abatement, audit appeals, installment agreements, and reduction in tax liabilities. Ideal Tax Solution typically requires clients to pay a set fee in order to begin work on the client's behalf. Depending on the circumstances of each case, the cost involved could get expensive for a client in a difficult financial situation. "We get a few clients each day who really want our help, but hiring us is too much for them because of the very difficult times they are going through" says Sam Pryce, a Senior Tax Analyst at Ideal Tax Solution. The company offered a pro-bono program in the past for a limited time, but had removed the offer due to too "unprecedented demand" it came across.
The managers at Ideal Tax Solution have come together and realized that the company should offer the pro-bono service once again to "select" clients. Ideal Tax Solution says that this time the company will be better prepared for the demand. According to the new pro-bono program clients can qualify if they meet certain criteria such as yearly income, financial obligations, employment and any other special circumstances. From there Tax Analysts can determine whether a client qualifies for Ideal Tax Solution's pro-bono offer. The company has stressed that it cannot take anybody's request for pro-bono. Clients of course can express an interest in the offer but must know that not everyone will qualify. "We are looking for the really deserving cases when people can't even find money to pay for groceries" says Scott Pryce. However, Ideal Tax Solution says that if someone really thinks they could qualify, they shouldn't hesitate to contact the company. Ideal Tax Solution's pro-bono program will start on October 15th and will run for a few months just in time for the holidays. Ideal Tax Solution has not given a specific date when its pro-bono program will end but stresses that it will run it for as long as it possibly can.
About the company: Ideal Tax Solution, LLC is located in Costa Mesa, CA and provides tax negotiation services, preparation and is a collection defense specialist. Their Tax Attorneys, IRS Enrolled Agents, CPA's, Senior Tax Consultants have over 55 years of combined experience working to help American tax payers with the IRS and State Tax Agencies.