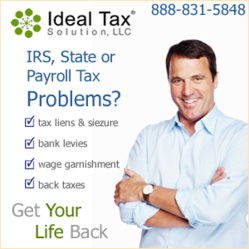 Ideal Tax Solution, one of the leaders in tax resolutions has announced their intention to expand their tax analysis team.
(PRWEB) February 20, 2012
Ideal Tax Solution, one of the leaders in tax resolutions has announced their intention to expand their tax analysis team. Tax analysts are tax experts that discuss with the tax payer many different aspects of their financials and tax debt to let them know what sort of tax strategies they could qualify for. This allows the tax payer to then decide, based off the information given, if they would like to hire a tax resolution company to assist them. Ideal Tax Solution thrives on having the most educated and precise tax analysts to guide their clients. And to keep up with demands, they are looking to add more analysts to their team.
A tax analyst is someone a tax payer wants to be completely honest with when disclosing financials. Their job is to help, and they need to be able to accurately do so. They do not work for the IRS and are not looking to get a person in need, in any trouble. A good tax analyst is going to get a detailed idea of how much money you have incoming monthly, as well as outgoing. They also want to substantiate any outside accounts, savings, stocks, etc that a tax payer may have. This is important as there is nothing that can be hidden from the IRS, so it's useless to try. Getting a concrete idea of what the tax payers expenses are like, allows the analyst to give an accurate tax strategy and helpful tips in what needs to be done to assist in the problem. Any tax payer communicating with a tax analyst wants to beware of anyone trying to convince them that they don't need to report certain things, or in a roundabout way say they are willing to lie. Always do your research and check your bases when given information from a tax analyst. Tax analysts are part of every tax resolution company, so if there is uneasiness about it, check the sources. Make sure thorough research is completed, there are negative reviews out there for any kind of business or establishment, and not every person can be pleased. But be sure to check positive feedback and professionalism. If there isn't much on the internet about a specific company, chances are they aren't very substantial. Another aspect of talking to a tax analyst is to remember to always read the contract carefully and ask the analyst any questions prior to signing.
About the company: Ideal Tax Solution, LLC is located in Costa Mesa, CA and provides tax negotiation services, preparation and is a collection defense specialist. Their Tax Attorneys, IRS Enrolled Agents, CPA's, Senior Tax Consultants have over 55 years of combined experience working to help American tax payers with the IRS and State Tax Agencies. Ideal Tax boasts an "A" rating with the Better Business Bureau earned through providing excellent services.
###