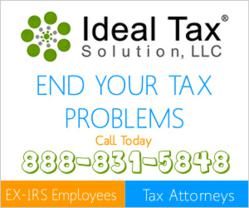 Ideal Tax Solution, a tax resolution company, is now organizing some Pro Bono work to be done monthly.
Costa Mesa, CA (PRWEB) February 28, 2012
Ideal Tax Solution, a tax resolution company, is now organizing some Pro Bono work to be done monthly. Owing back taxes can be very stressful and straining on one's life. Tax resolution companies are well aware that some people are in dyer need of help and just can't afford the funds to hire any. Ideal Tax Solution is now going to offer pro bono work for 10 cases each month. In doing so, the company intends to lend a helping hand to less fortunate Americans struggling with tax debt. Along with other donations and help with other charities, this is the company's way of giving back to society. Owing back taxes can ruin a person's life and Ideal Tax Solution is looking to lessen this load.
"I enjoy Pro Bono work. To me, there is nothing more satisfying than helping someone in need without expecting anything in return. When it comes to dealing with the IRS, there are many people in need of representation but don't have the means necessary to protect themselves. Either the IRS is garnishing their wages, has levied their bank account or, in some extreme cases, have come in and completely seized their property. Giving free tax assistance and representation to these people makes you feel good, knowing you're doing a good thing for someone who really needs it." Justin Clement, Enrolled Agent, Ideal Tax Solution. This new attribution is going to be tested beginning in March 2012. Visit their website at http://www.idealtaxsolution.com for more information on how to apply.
About the company: Ideal Tax Solution, LLC is located in Costa Mesa, CA and provides tax negotiation services, preparation and is a collection defense specialist. Their Tax Attorneys, IRS Enrolled Agents, CPA's, Senior Tax Consultants have over 55 years of combined experience working to help American tax payers with the IRS and State Tax Agencies. Ideal Tax boasts an "A" rating with the Better Business Bureau earned through providing excellent services.
###