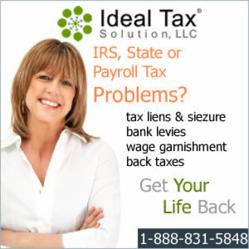 Our goal here every day is to help as many people as we can overcome the life changing circumstances that have the potential to drastically diminish their daily lives
Costa Mesa, CA (PRWEB) January 30, 2013
Ideal Tax Solution, LLC continues to extend its marketing and customer service reach to a wider audience of troubled taxpayers as awareness grows in regard to the benefits of working with professional tax relief specialists. As more and more information on professional tax resolution makes its way into the financial services marketplace, individuals and businesses with lingering tax debt liability issues are actively exploring professional tax help companies for quick and effective relief from the IRS debt collection process.
Resolving tax liability issues requires considerable time and energy, even if one does have a degree of knowledge about the intricacies of the tax code. Although the rules and regulations governing the collection of taxes are spelled out in expansive fashion, most people cannot afford to utilize their time and energy researching, calculating and eventually negotiating with the IRS to achieve tax debt resolution. Tax help specialists at companies like Ideal Tax Solution spend their entire workday interacting with the IRS on behalf of clients urgently in need tax debt relief.
As in any industry, businesses with increased market exposure experience a greater utilization of their products and services. The tax debt resolution industry is undergoing a rapid transformation from niche financial service status to a much broader developing market which falls under the banner of professional debt liability relief or professional tax debt help. Both of these service headings accurately describe the benefits provided by the professional tax resolution company Ideal Tax Solution.
"Our goal here every day is to help as many people as we can overcome the life changing circumstances that have the potential to drastically diminish their daily lives," says Jason Bowman, Senior Tax Adviser at Ideal Tax Solution. "Many times when people contact us, they are at the end of their ropes having tried on their own to resolve their tax liability issues with the IRS, only to find themselves in worse shape than before they started."
After gathering the energy, documentation and time it takes to effectively deal with an IRS liability collection process, people quickly realize how difficult and all consuming it can be. The Internal Revenue Service expends considerable resources training its agents, and expects them to do their best to retrieve uncollected funds determined to be owed them by individuals they consider to be delinquent taxpayers. Convincing the IRS an individual's tax liability may not be as great as it appears also requires the expertise of tax help agents who work at companies like Ideal Tax Solution.
"It takes a while to truly get a good grasp on exactly which direction the IRS is likely to take when they are in the midst of a debt collection process," adds Bowman. "Every tax liability situation is unique and only by actually working the IRS on a consistent basis can one develop the skills needed to effectively resolve a tax liability. Here at Ideal Tax Solution, we've helped resolve IRS tax debt for literally thousands of satisfied clients."
The power of a professional approach should never be underestimated, especially when dealing with something as important as tax debt. Serious repercussions can result from ignoring or underpaying tax responsibilities. Without the professional touch of tax relief specialists and companies like Ideal Tax Solution, an individual or business risks substantial penalties for not dealing with the IRS in a prepared, knowledgeable and forthright manner.
About the company:
Ideal Tax Solution, LLC is located in Costa Mesa, CA and provides tax negotiation and preparation services, and is a professional collection defense company. Their Tax Attorneys, IRS Enrolled Agents, CPA's, and Senior Tax Consultants have over fifty-five years of combined experience working to help American taxpayers with the IRS and State Tax Agencies.
Original Press Release Link Can Be Found;http://resources.idealtaxsolution.com/ideal-tax-solution-llc-reinforces-its-customer-service-platform-to-more-efficiently-embrace-an-ongoing-upsurge-in-tax-resolution-clients-26.html