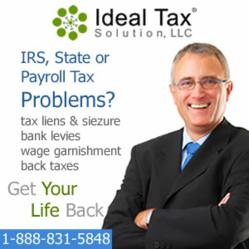 The company has blamed the economic downturn as to why so many people have been unable to make arrangements to pay their taxes
Costa Mesa, CA (PRWEB) September 27, 2012
Ideal Tax Solution, LLC has made plans public to offer discounts to senior citizens for the company's services. Currently Ideal Tax Solution's clients range dynamically in terms of demographics. Potential clients who are at or above the age of 65, would be able qualify for a notable discount. "We want to offer America's Senior Citizens the best team of Tax Attorneys at a price that can't be passed up," says Sam Pryce, a Senior Tax Analyst at Ideal Tax Solution. According to Ideal Tax Solution, the company has seen an increase of Senior Citizens who have been unable to stay current on their taxes. Usually the tax problem may have incurred from years ago but hasn't been dealt with until possibly later in life. It also could be that they are aware of having a tax problem but are unable to pay off the tax liability. Of course there are numerous other circumstances that could play a role in the causation of a tax issue.
Ideal Tax Solution has seen an increase across almost all demographics that have a tax problem on their hands. But specifically Ideal Tax Solution has seen a noticeable increase in the number of Americans under the Senior Citizen bracket, who have incurred a tax problem. Classically, the company's clientele has never seen such an increase in the percentage of Senior Citizens. The company has blamed the economic downturn as to why so many people have been unable to make arrangements to pay their taxes. "It's unfortunate that our senior citizens have been probably the most affected group of the under-performing economy, poor healthcare and now taxes," says Liz Saunders, a manager at Ideal Tax Solution.
Fortunately, Ideal Tax Solution has been able to pull many Americans out of the stressful drama of dealing with their tax problems. Specifically for Senior Citizens, Ideal Tax Solution has expressed that in most cases resolving their tax problem has been much easier. For example, an older out of work or retired delinquent tax payer has a much more credible case than someone who makes a lot of money and has never been without a job. The IRS will see that the tax payer in the first circumstance does not have much to offer them. Therefore, the IRS will be more likely to settle with an Offer in Compromise, accepting a Penalty Abatement, or settling with a very low monthly payment plan. "It is in the client's best interest to get the professional help they need as soon as possible," says Sam Pryce. Ideal Tax Solution's discount to Senior Citizens is currently applicable to new clients as of now.
About the company:
Ideal Tax Solution, LLC is located in Costa Mesa, CA and provides tax negotiation services, preparation and is a collection defense specialist. Their Tax Attorneys, IRS Enrolled Agents, CPA's, Senior Tax Consultants have over 55 years of combined experience working to help American tax payers with the IRS and State Tax Agencies.