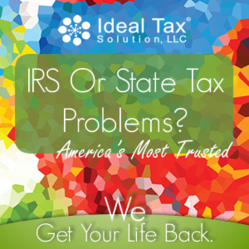 The founders of Ideal Tax Solution understood the ultimate value of the unique service a professional tax resolution company can provide.
Costa Mesa, CA (PRWEB) January 17, 2013
Ideal Tax Solution, LLC is reaping the benefits of an aggressive and energetic business model which places optimum priority on providing superlative tax resolution services. The company's experienced tax liability specialists are encouraged to continually push the limits of professional tax help protocols. Their insightful input is an integral part of an ongoing strategic effort intended to solidify the tax relief firm's forward thinking philosophy of providing unparalleled tax debt resolution satisfaction and incomparable personalized customer service.
The founders of Ideal Tax Solution understood the ultimate value of the unique service a professional tax resolution company can provide. In addition to addressing all the myriad financial and technical issues related to satisfactorily achieving quick and effective tax debt relief, they also had an acute awareness of the positive impact experienced tax help could deliver to individuals, families and businesses alike.
Coping with tax liability entails more than simply memorizing the sometimes confusing rules and regulations of the tax code. Being knowledgeable of the various aspects of the tax collection process is a good foundation for successful tax resolution, and employing the irreplaceable human touch throughout the tax relief process is what separates average financial service companies from the elite standard bearers in the industry, such as Ideal Tax Solution.
"The tax specialists in our company are chosen because of their genuine empathy for people who, in some cases through no fault of their own, find themselves in the financial struggle of a lifetime," says Thomas Rodriguez, Senior Tax Adviser at Ideal Tax Solution. "We hear heartbreaking stories every day and learned a long time ago how utterly important it is to acknowledge the pain and life disruption a delinquent taxpayer goes through during a tax resolution process."
Setting standards in any industry requires a fundamental comprehension of every operational, procedural and results oriented aspect of a particular business. Successful tax resolution companies like Ideal Tax Solution go far beyond simply applying standard economic practices as part of their tax debt relief services. Adhering to strong workable protocols that encompass the positive principles necessary to achieving effective and productive tax liability relief must be part of a company's daily operational procedure.
"The generally implied concept of a daily routine is somewhat different here, says Rodriguez. "At Ideal Tax Solution, our daily routine is in a constant state of review to make sure we never fall into the lackadaisical trap of thinking we have exhausted every avenue for improving our tax resolution services. Our daily routine revolves around the creation of new and better daily routines."
Being a leader mean being in a constant state of forward progress. The tax relief specialists at
Ideal Tax Solution pride themselves on staying abreast of changes in the tax code which could have any bearing on their client's taxpayer status, good or bad. A comprehensive understanding of the tax resolution industry with all its intricate aspects, along with a psychologist's sensitivities toward individuals caught up in the maelstrom of the debt resolution process, are key to staying in the forefront of this rapidly emerging sector of the financial services arena.
About the company:
Ideal Tax Solution, LLC is located in Costa Mesa, CA and provides tax negotiation and preparation services, and is a professional collection defense company. Their Tax Attorneys, IRS Enrolled Agents, CPA's, and Senior Tax Consultants have over fifty-five years of combined experience working to help American taxpayers with the IRS and State Tax Agencies.
Original Press Release Link Can Be Found; http://resources.idealtaxsolution.com/ideal-tax-solution-llc-solidifies-its-position-as-an-industry-trendsetter-in-the-growing-tax-resolution-sector-of-the-financial-services-industry-19.html