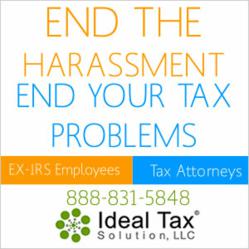 The IRS and State will place levies on business accounts when a tax debt is owed, resulting in the business not being able to make payroll, and everything goes downhill from there
Costa Mesa, CA (PRWEB) February 01, 2012
In an attempt to lower America's unemployment ratings, President Obama is proposing to give more tax benefits to businesses that choose to hire and expand when society needs it most. Incentive to do so is that the proposition also states he intends to eliminate tax benefits for companies who choose to outsource and do business overseas. This is beneficial for companies who choose to continue to hire as they will receive tax breaks come tax time. However, companies who have found they are able to thrive by working with out of country sources will be taxed harshly, with no benefits. The article states, "United States President Barack Obama has announced that he will put forward new tax proposals in the coming weeks designed to reward companies that choose to invest or bring back jobs to the United States, and to eliminate tax advantages for companies moving jobs overseas." usataxnews.com
It is up for debate, whether or not this is too harsh. But in reality, with or without the proposition, millions of businesses are suffering from challenging tax regulations. Tax resolution companies can assist these businesses by lowering and negotiating the debts that they've accrued. While president Obama's past budgets have contained many proposals to deter US firms from 'shipping jobs overseas', for example by ending the corporate deferral rules, which allow US businesses that invest overseas to take immediate deductions on their US tax returns for expenses supporting their overseas investments but then "defer" paying US taxes on the profits they make from those investments. This proposal has, however, never been enacted, but is almost certainly to figure again in the forthcoming budget. So as propositions are being made, but still not in affect, there is still the issue of businesses suffering from taxes, whether they ship overseas or not. Businesses are required to pay estimated taxes quarterly, to keep up with the taxes for the entire year. Very easily and very quickly, a business can fall into tax debt.
Tax resolution companies offer programs for businesses large and small. They include penalty abatements, installment agreements, currently non-collectible status and offer in compromise. These programs maintain or lower or eliminate tax debts, and help businesses get back on their feet. The IRS and State will place levies on business accounts when a tax debt is owed, resulting in the business not being able to make payroll, and everything goes downhill from there. Tax resolution companies are able to lift levies and garnishments and keep them from happening in the future. So while the tax guidelines for businesses in the future are still in a gray area, get help now for business tax issues of the past.
About the company: Ideal Tax Solution, LLC is located in Costa Mesa, CA and provides tax negotiation services, preparation and is a collection defense specialist. Their Tax Attorneys, IRS Enrolled Agents, CPA's, Senior Tax Consultants have over 55 years of combined experience working to help American tax payers with the IRS and State Tax Agencies. Ideal Tax boasts an "A" rating with the Better Business Bureau earned through providing excellent services.
###