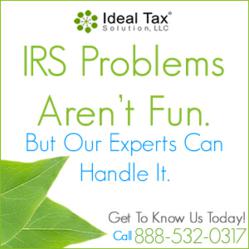 When speaking of industries dependent on quality client representation, the business of providing tax debt relief has few rivals.
Costa Mesa, CA (PRWEB) January 08, 2013
Ideal Tax Solution, LLC has invested significant time and resources into the development of its Ideal Tax Solution, LLC: Do You Owe Back Taxes? customer service department, reflecting its deep commitment to becoming the unquestioned leader in providing experienced tax resolution satisfaction and client support. For a company to be successful, the fast developing nature of the industry requires a targeted approach to every aspect of the resolution process, to insure consumers of tax relief services receive the absolute best results possible.
From the moment an individual or business representative initiates communication with an Ideal Tax Solution qualified agent, the process, or art, of customer service begins. The initial interaction between a company and a distraught taxpayer can determine whether or not the development of a business relationship will occur.
"Forging a relationship with someone in serious need of a financial lifeboat is a bit different than a simple exchange of services found in other businesses. It's an extremely personal synergy that takes place, and one that requires an ability to listen and empathize," says Murad Khatib, a senior marketing associate with Ideal Tax Solution. "We spend a lot of time developing and conditioning our communication skills so we are able to put a client at ease during one of the most difficult times in their life."
The ability to provide effective tax liability relief is a developed skill requiring extensive experience working with taxpayer delinquency issues. Successful tax resolution also warrants comprehensive knowledge of IRS procedures and regulations. Without possessing the necessary qualifications and appropriate professional attitude, attempting to resolve a tax debt issue can be an exercise in futility and frustration for all parties concerned.
Professional tax resolution is an efficient combination of professional ability and professional customer service. When speaking of industries dependent on quality client representation, the business of providing tax debt relief has few rivals. The need for resolving tax liability usually hits a taxpayer from out of the blue, and represents a potentially life-change circumstance for which professional help can seem like a gift from above.
"Once we have achieved successful debt resolution for what had been a nagging tax liability issue, different clients respond in different ways," says Khatib. "Almost always, however, a common reaction is one of immense gratitude, many times accompanied with a strong handshake or hug…but, probably most rewarding is seeing the smile come over their face when they realize the IRS storm is over and they've been given their life back."
The tax relief specialists at Ideal Tax Solution understand human nature and what it means to put the 'care' in customer service. From first introduction to final resolution, the process of getting one's life back when confronted with the life-shocking experience of an IRS collection effort should always be as simple and painless as possible.
About the company:
Ideal Tax Solution, LLC is located in Costa Mesa, CA and provides tax negotiation and preparation services, and is a professional collection defense company. Their Tax Attorneys, IRS Enrolled Agents, CPA's, and Senior Tax Consultants have over 55 years of combined experience working to help American taxpayers with the IRS and State Tax Agencies.
Original Press Release Link Can Be Found Below; http://resources.idealtaxsolution.com/ideal-tax-solution-llc-creates-new-corporate-culture-emphasis-on-customer-service-as-industry-experiences-growth-in-new-client-sector-10.html