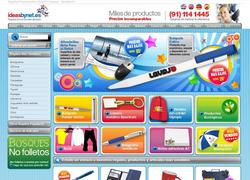 (PRWEB) September 17, 2010
Following the success of the Spanish football team at the World Cup, Alberto Contador's defence of his Tour de France crown and Rafa Nadal's domination of the tennis majors, Ideasbynet is continuing the 'Year of the Spaniard' with the launch of their new Spanish website.
The new website, http://www.articulospromocionales.net/, has been in development for a number of months, with thousands of 'articulos promocionales' uploaded ready to start selling.
Ideasbynet, which has become one of the leading online promotional gifts distributors in the UK, has decided to launch in Spain following the immediate success they have seen in selling 'werbeartikel' (http://www.werbeartikeldirekt.de/) on their German website.
The company's ethos of providing quality promotional products and forging lasting professional relationships is one it feels will transfer productively to the Spanish market.
'Promotional pens' (http://www.ideasbynet.com/pens-and-writing-intro-page.htm) and promotional mugs, as fairly low cost items that are used daily have proven to be hugely popular in the UK as a vehicle for maintaining brand profile. However, with such a variety of 'regalos de empresa' to choose from, including promotional cooler bags, folders and beach accessories, Ideasbynet are fascinated to see where Spanish customers will focus their marketing efforts – perhaps the promotional sports holdalls!
Ideasbynet is looking forward to beginning its work in Spain and hopes that the country's sporting success in 2010 will be a good omen for the website launch.
About Ideasbynet:
Ideasbynet is part of a marketing services group formed in 1985 that has evolved to become the market leaders and one of the UK's most trusted names for promotional products.
Ideasbynet.com was the first UK company to make business gifts and promotional products instantly more accessible over the internet. Customers can now expect unparalleled levels of service, the net's lowest prices and instant access to over 5000 products, including promotional bags and promotional pens. With Ideasbynet one hour quotations, product availability, free virtual samples and professional design services are only a click away. The company believes it is its price, service and understanding customers' needs that sets it apart from all other business gift suppliers.
Ideasbynet customers include the UK's largest corporate and government organisations, the nation's biggest retailers, thriving small and medium sized businesses, hospitals, universities, schools, household name charities together with sports and social clubs. The company enables every organisation to benefit from unrivaled pricing, unparalleled expertise and industry-leading customer service.
###