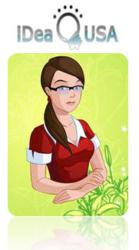 "...The average tablet user would benefit from a customizable virtual personal assistant on their tablet..." states Mr. Stephen Perl, founder and chief architect for iDeaUSA tablets
Los Angeles, CA (PRWEB) January 30, 2013
iDeaUSA (TM) Products, Inc., a leading manufacture of Android (TM) Tablets based in California, is now the first tablet manufacture to integrate a Virtual Personal Assistant in all of its tablets models sold in the USA.
"Many cell phones tout personal assistants, but with tablets becoming ubiquitous, I felt the average tablet user would benefit from a customizable virtual personal assistant on their tablet too," states Mr. Stephen Perl, founder and chief architect for iDeaUSA tablets. The iDeaUSA's personal assistant program is useful in the hands free operation of our tablets in pulling up or writing many things such as calendar, email events, or even to finding the latest movie times. One can even have a chat with your Virtual Personal Assistant, if you are bored. Our virtual personal assistant can also be named and learn new functions as well...it can be designed as either a male or female with various clothes, glasses, hair or even eye color.
iDeaUSA (http://www.ideausa.us ) is the brain child of entrepreneur, Stephen Perl who is also the CEO of a leading US commercial lender, 1st PMF Bancorp. iDeaUSA designs its tablets in California while manufacturing them in China through its own staff and facility. iDeaUSA manufactures a 7", 9.7", and 10.1" inch tablets that tout dual and quad core chip sets. "Part of our success is having close relations with our chip set manufacture and having our own engineering and QC teams in China to oversee production at our joint venture manufacturing facility. This way, we can make a superior product to our unbranded competitors, while standing out as a great product to even the top brands in term of value when comparing all aspects from price to functionality," states Stephen Perl, founder of iDeaUSA (TM).
iDeaUSA recently, had a great review by Discovery Channels's website as a rising star for function and value as a new and upcoming tablet company. "Android's open architecture has allowed our tablet to go where many others cannot or will not due to their overall business model. Many of the large pad, tablet makers and cellular companies have agendas to keep you tethered to their software,service, products, accessories, etc. iDeaUSA tablet is very different in its philosophy. We share the same philosophy that Google has adopted when creating its Android OS...to be open and freely compatible with all accessories, services, etc. This is the reason all our tablets have USB compatible, HDMI compatible, SD compatible, Bluetooth compatible ports and functionality...the world is limitless," states Mr. Perl, founder of iDeaUSA.
iDeaUSA's China development and success comes from Mr. Perl's years of experience in operating and setting up companies in China. Mr. Perl's many experiences have been summarized in his recent book, "The Secrets of Dancing with the Dragon: Doing business with China".
About:
iDeaUSA Products, Inc. designs, produces, and sells innovative Android tablets. With our own engineers and staff, we can ensure a much higher quality product than our competition. And, as a U.S. based company in Pomona , California, we know the leading trends better than the foreign tablet manufactures.
1st PMF Bancorp ("PMF"), a state and federally chartered bank lender since 1985, specializes in providing short-term loans and trade financing to small and medium size businesses while also offering a suite of credit services. PMF Bancorp's credit services offer companies a solution for evaluating, insuring and profiling businesses globally. In 2004, PMF began its first operations in China and, then established its wholly owned Chinese subsidiary, Baolida Commerce Co. which now has offices located in Shenzhen, Guangzhou, Qingdao, and Shanghai. PMF's provides a unique platform as a private lender for global working capital solution for companies working in the United States and China.