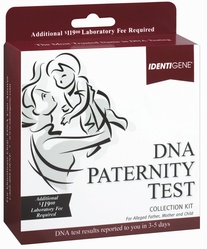 Because of my personal circumstances, the day I left the hospital after my son was born I turned in case papers for a paternity test
SALT LAKE CITY (PRWEB) March 25, 2008
"Over-the-counter sales offers a completely new marketing channel for DNA testing. It makes the process more convenient and affordable while ensuring reliability and confidentiality," said Doug Fogg, COO of Identigene. "We learned that people are extremely receptive to the idea of purchasing a DNA paternity test kit while shopping at one of the nation's leading drug store chains." Outside New York state, Rite Aid has 4,363 stores in 30 states and the District of Columbia. Fogg said he anticipates the Identigene DNA Paternity Test Collection Kits will be sold in New York state at a later date.
In the past, to obtain a DNA paternity test often required involvement of doctors or lawyers, weeks of waiting for results and a cost of multiple hundreds of dollars. "Because of my personal circumstances, the day I left the hospital after my son was born I turned in case papers for a paternity test," said Natalie Maynes of Vancouver, Wash. "Two months went by with no word, so I called. They told me with their waiting list, test results could be up to six months away. That night on the news, I learned I could buy an Identigene DNA Paternity Test Collection Kit at Rite Aid. Taking samples was easy, and it was nice to be able to do it ourselves. Five days later, we had our results."
With an Identigene DNA Paternity Test Collection Kit, participants of the test collect a DNA sample by rubbing a swab inside their mouth. The samples, along with consent forms and a lab fee are sent in an enclosed postage-paid return envelope to Identigene for processing. Results are available from Identigene within three to five business days of receipt. Customers can choose to receive results by mail, email, or online through a secured Web service. All information remains strictly confidential.
Suggested retail price for an Identigene DNA Paternity Test Collection Kit is $29.99, and the laboratory processing fee is $119.
About Identigene
Identigene, a Sorenson Genomics company, was founded in 1993 and was the first DNA testing laboratory in the world to commercially use modern STR technology for paternity testing. Identigene offers a full range of DNA testing services including tests used to determine paternity, siblingship and other familial relationships, as well as DNA tests for purposes of immigration, child custody, settling estates and other family-related situations. Additional information about Identigene and its DNA testing services is available by visiting http://www.dnatesting.com.