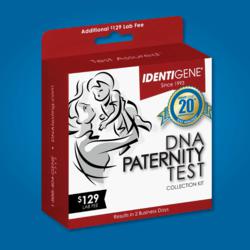 We are thrilled to have Dr. Taylor work with us on our public service messages regarding paternity questions.
Salt Lake City, Utah (PRWEB) May 13, 2013
IDENTIGENE, the DNA testing laboratory that manufactures the #1 selling DNA paternity test sold at drugstores and supercenters, has signed psychiatrist and television personality Dr. Janet Taylor as their spokesperson for the first half of 2013. Dr. Taylor is helping to educate the public regarding healthy approaches to paternity testing, ensuring that those with paternity questions feel respected and informed. As part of the partnership, IDENTIGENE and Dr. Janet Taylor are producing educational videos, conducting interviews with media and creating informative online content.
IDENTIGENE first connected with Dr. Taylor during their mutual involvement with "The Jeremy Kyle Show", a national syndicated television talk show. Dr. Taylor provided advice to guests on the show, while IDENTIGENE's laboratory arranged for DNA sample collections and processing for guests, as needed. Over the past two years, IDENTIGENE followed Dr. Taylor's work nationally, and within the New York community, and determined that she would be a great asset to their customers, as well as the general public who have paternity questions.
"We are thrilled to have Dr. Taylor work with us on our public service messages regarding paternity questions," says Steve Smith, Executive Director at Identigene. "She brings a wealth of family and relationship counseling experience, as well as life coaching skills to our customers," Smith adds.
Recently, IDENTIGENE commissioned a research study that concluded one in ten Americans have personally been in a situation where a paternity test was needed, and nearly one in five said that they or a close friend or family member have questioned paternity. Recognizing that paternity questions are so common, IDENTIGENE is responding to the community need for education, focusing on the emotional impact paternity questions bring to women, men and children and how they can best handle this potentially life-altering information in the healthiest of ways.
ABOUT DR. TAYLOR
Dr. Janet Taylor is a nationally known psychiatrist, public speaker, writer and life coach. She holds a medical degree from the University of Louisville and a master's degree in Health Promotion/Disease Prevention from Columbia University. Dr. Taylor is a frequent contributor to CBS "This Morning", NBC "The Today Show" and "Good Morning America" on topics such as motherhood and parenting. Her column in Family Circle Magazine is entitled, "Ask Dr. Janet," and she also blogs at http://www.drJanet.tv. Dr. Taylor has been featured on many television shows, including Celebrity Crime Files- TV-One, Discovery Health/Own- "Facing Trauma" and a syndicated talk show, "The Jeremy Kyle Show".
ABOUT IDENTIGENE
Identigene is a global leader in DNA paternity testing, providing both personal and legal paternity tests, as well as other familial relationship testing, such as grandparentage and siblingship.
Identigene is America's #1 brand for DNA paternity testing, recognized by doctors, lawyers, and the American consumer. Identigene is the first and only laboratory to bring DNA paternity testing to the general consumer through major drugstores and supercenters nationwide. It is nationally and internationally accredited for both DNA paternity and molecular diagnostics testing services.
Identigene is a privately-held, wholly-owned subsidiary of Sorenson Genomics, a highly accredited genomic laboratory renowned for its expertise in human identity, forensics DNA testing, and population genetics.
Visit http://www.DNAtesting.com for industry-leading resources including how-to videos, a store locator, product reviews and a blog dedicated to current issues in DNA and paternity testing. Connect with Identigene on Facebook at http://www.facebook.com/identigene or follow the company on Twitter at @Identigene.