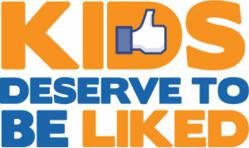 Removing paternity questions can be the first step in empowering and inspiring a grandparent or other relative to help.
Salt Lake City, UT (PRWEB) October 17, 2012
Just two weeks remain in the "Kids Deserve to be Liked" Facebook campaign currently sponsored by Identigene.
Identigene, the DNA paternity test company, began a philanthropic effort called "Kids Deserve To Be Liked" with the Family Resource Center in St. Louis, MO. The mission of the Family Resource Center is to help abused and neglected kids, giving a chance at a better life.
Identigene pledged to donate $.50 for each new "Like" before October 31, 2012, up to a maximum of $10,000. The company is also offering free laboratory processing to licensed social workers who contact Identigene and mention the campaign. Every "Like" in support of the Facebook "Kids Deserve To Be Liked" campaign helps FRC provide for client needs including, but not limited to: therapy and healing for abused children; mentoring programs to help teen parents with job skills, employment and parenting issues; parenting classes and programs that provide new ways to raise children without harm; foster care case management, adoption and foster parent recruitment; and food, clothing and school basics.
Identigene Executive Director Steve Smith commented on the philanthropic partnership, "Identigene is proud to support Family Resource Center. Research shows that children who can identify their biological father fare better in terms of emotional and physical health, financial welfare and school performance."
Smith says paternity questions are more common than you think and Identigene hears from families every day who are working together for the benefit of a child. He says, "Removing paternity questions can be the first step in empowering and inspiring a grandparent or other relative to help."
To donate $.50 to Family Resource Center before October 31, 2012, the company invites community members to "like" the page at http://www.facebook.com/kidsdeservetobeliked.
About Identigene
Identigene is a global leader in DNA paternity testing, providing both personal and legal paternity tests, as well as grandparent, sibling and other relationship tests. Identigene is the only paternity test kit available on the retail shelf, and can be purchased in nearly 25,000 drugstores and supercenters nationwide. Identigene is one of the most highly accredited laboratories in the world and the oldest fully-accredited laboratory in the world for paternity and relationship testing.
Identigene is a privately-held, wholly-owned subsidiary of Sorenson Genomics. Sorenson is a world leader in human genomics, forensics DNA testing, population genetics and DNA research.
Visit http://www.DNAtesting.com for industry-leading resources including how-to videos, a store locator, product reviews and a blog dedicated to current issues in DNA and paternity testing. Connect with Identigene on Facebook at http://www.facebook.com/identigene or follow the company on Twitter at @Identigene.
Contact information:
Steve Smith, Executive Director
Identigene
801-462-1424
ssmith(at)identigene.com