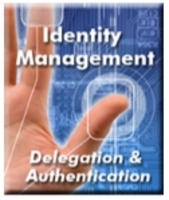 Namescape's customers are our strongest advocates
Phoenix, AZ (PRWEB) March 29, 2010
Leading identity management applications provider, Namescape, announces the release of an upgrade to its flagship product, rDirectory and premier self-service password reset solution, myPassword. This new version of software for Microsoft'sTM Active Directory contains a number of significant updates and is compatible with IIS7 and Windows Server 2003, 2008 and 2010.
myPassword is a simple yet powerful, self-service password reset solution that enables users to reset forgotten passwords and unlock their accounts. The latest release supports password history on self-service password resets. Administrators continue to set the number of passwords that must be retained before one can be re-used, but are no longer required to manually enforce password history. Users can securely reset their own passwords after answering custom, predefined questions and myPassword automatically enforces password history.
rDirectory, Namescape's complete solution for identity information management, now supports Exchange 2010 mailbox provisioning. rDirectory's Designer feature, used to compose custom directory applications, is enhanced by a new design folder that contains pre-configured forms for creating applications. The new Designer Sandbox allows administrators to create and customize rDirectory functionality prior to implementing new applications into the production design.
Namescape brings peak proficiency to Active Directory with innovative identity management solutions and a unique approach to Active Directory management. Namescape's products leverage a company's existing investment and build on its current IT infrastructure by providing solutions that bring secure automation, access control, provisioning and self-service capabilities to Active Directory, while providing an immediate and continuous ROI to any organization. This approach has created a high level of customer satisfaction as evidenced by Namescape's consistently high subscription renewal rate.
"Namescape's customers are our strongest advocates," says Judy Cleveland, Director of Marketing and Operations for Namescape. "We strive to provide leading-edge identity management and password management solutions and support them with incomparable customer service."
About Namescape Corporation
Namescape Corporation is the leader in Active Directory management solutions with products that are designed specifically for Microsoft's Active Directory. Namescape is a Microsoft Gold Certified Partner and has over 20 combined years of experience developing products that bring you scalable, web-based Identity Management and Password Management solutions as well as powerful administrative tools that streamline maintenance and reporting.
For more information about Namescape Corporation and their identity management solutions, please call 602-667-8900 or visit Namescape.com.
All product and company names herein may be trademarks of their respective owners.
###