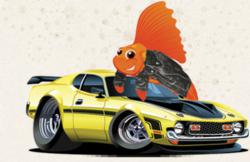 At some point, it becomes the consumer's responsibility to make sure that the data on their reports is factual and true.
Los Angeles, CA (PRWEB) January 30, 2013
RoadFish.com men's lifestyle and finance magazine today released their warning regarding a credit trend that is coming to light, wherein consumers with similar social security numbers and names experience what is known as a merged or mixed credit file. Credit profiles become commingled, resulting in a phenomenon that at first glance appears to be credit theft—but in actuality is the product of credit bureau error, and uncannily similar consumer identities.
RoadFish.com was first made aware of this issue upon reading an account written by Bakersfield Californian columnist Anselmo Moreno, who describes a freak encounter he had when he was 18 years old of a commingled credit profile with his father. Moreno recounts how he went car shopping shortly after turning 18 for a better ride, and when the car salesman ran a credit check on Moreno's credit, Moreno was congratulated and told that he had a sterling score of 800—and had already paid off three cars through his credit union. The reality of the matter was that Anselmo Moreno shared the same name and, at the time, address as his father, Anselmo Moreno Sr, resulting in a credit profile that had been combined with that of his dad's.
RoadFish.com says that this is an alarming phenomenon, one that they are trying to spread the word about so consumers can recognize the issue should they come across it, and not misidentify it as a case of identity theft. RoadFish.com's Senior staff writer is quoted as saying, "It is pretty shocking to me how many errors can be found on credit reports these days, and I think that should be further incentive for consumers to be checking their scores on a regular basis—at least once a year. The fact is that the people who comprise businesses are human, just like everybody else, and capable of error. The same goes for the credit bureaus. It's certainly fair for us to expect businesses to do their job, but it's loftily naïve of us to just sit back and assume that everything on our reports is accurate. At some point, it becomes the consumer's responsibility to make sure that the data on their reports is factual and true. People need to know about the possibility of mixed credit profiles, if not to motivate them to check their credit, then to make them aware of what it is and how to handle it if it ever happens to them."
In a May 2012 Time article, the National Consumer Law Center's staff attorney, Chi Chi Wu, stated that credit bureaus tend to use truncated social security numbers which can contribute to consumer data being merged with another consumer's if the two have similar numbers. The NCLC is quoted as saying that credit bureaus "have been known to mismerge files when the consumers' names are similar, and they share seven of nine digits in their SSN."
RoadFish.com shares how to mend a mixed credit file. RoadFish.com's Senior staff writer is quoted as saying, "Consumers who find themselves on the wrong end of a merged credit profile should contact their credit bureau and ask them to go through all of their personal information to confirm that it is accurate. Ask them to check things like your date of birth, social security number and name against what's on file. Worst-case scenario, if you're not getting compliance or a timely response, you can always turn to the Consumer Financial Protection Bureau for assistance. You can submit a credit reporting complaint on their website, and they will help ensure that the credit bureaus set the record straight."
RoadFish.com warns that mixed credit files might happen more than one would think because evidently, all it takes for a potential mix-up is a similar social security number, similar name and same state. The above-mentioned Time article stated that in 2006, Equifax and Discover Financial Services were involved in a lawsuit over a woman's credit file having been mixed up with another woman's. Equifax is quoted as saying during the time, "The files in this data bank are 'built' using a search logic that is designed to organize credit information in a single file pertaining to one consumer if the information matches at least seven of the nine digits of that consumer's Social Security number, and has the same name and same state of residence."
About RoadFish.com:
RoadFish.com is an online finance and lifestyle magazine targeted towards men in their 30's and 40's, males who are self-motivators and who enjoy getting the most out of life. RoadFish.com writes about the best online dating site for men, hot chicks, financial advice, luxury items, and restaurant reviews. Their financial articles include advice such as how to rent with less than stellar credit, and how to keep a good financial budget. RoadFish.com is owned and operated by Purpose, Inc.