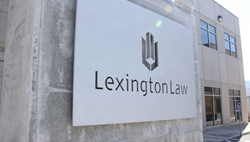 Identity theft is just the first domino in a string of sad events for so many consumers.
(PRWEB) February 28, 2014
Lexington Law, the nation's leading credit repair provider, affirmed Attorney General Eric Holder's comments this week in the Feb. 24 Reuters article titled "Attorney General seeks national standard to protect against identity theft," where he proposes national standards for consumer notification following identity breaches. In his statement Monday, Holder urged Congress to formally enact new consumer protections related to identity theft.
The Attorney General's comments were released in the wake of several alarming identity breaches with national implications, including last week's data theft impacting the University of Maryland and other recent attacks against more than 100 million customers of department stores like Target and Neiman-Marcus, according to a Feb. 27 article in USA Today, titled "California Attorney General focuses on retailers' data theft."
"Identity theft is just the first domino in a string of sad events for so many consumers," said Dr. Randy Padawer, a consumer advocate with Lexington Law. "Far too often, their credit reports and credit scores are the next casualties, and they're faced with unknown creditors who won't necessarily believe them."
The proposed Federal standards would support consumers in facilitating more effective criminal investigations.
"Only a patchwork of uneven state laws currently protect identity theft victims, and this can make the credit repair that must necessarily follow even more difficult," Padawer added. "Unfortunately, even respected universities and major retailers have compounded the problem by not taking identity theft more seriously. This is why Lexington Law created a special identity theft focus track for our clients who have been impacted by this pervasive problem."
Lexington Law offers five focus tracks personalized for life's common credit stressors: identity theft, medical expenses, divorce, student loan debt, and military service.
"At Lexington Law, we do our best to provide assistance in accordance with the client's specific needs," Padawer added. "This level of case personalization allows us to leverage the unique circumstances that impact a person's credit score."
###
About Lexington Law
Lexington Law is a consumer advocacy law firm with decades of experience, helping hundreds of thousands of Americans work to improve their credit. The firm comprises the largest network of credit repair professionals in the U.S., employing a growing staff of 26 attorneys and 200+ paralegals/agents across 19 states. By leveraging consumer rights to legally resolve issues with creditors and credit bureaus, Lexington works to ensure that client credit reports are fair, accurate, and substantiated. For details about Lexington Law's services, attorneys, or statistics visit: http://www.lexingtonlaw.com.