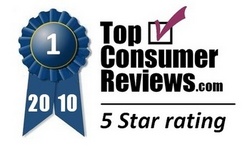 We are honored to receive TopConsumerReviews.com's highest rating
Overland Park, KS (Vocus) May 20, 2010
TopConsumerReviews.com, LLC has awarded their highest five-star rating to LifeLock, an industry leader in proactive identity theft protection.
"We are honored to receive TopConsumerReviews.com's highest rating," said Todd Davis, LifeLock Chairman and CEO. "It is very well documented that millions of people become victims of identity theft every year. Once victimized, it can take months or even years to restore a person's finances and credit. At LifeLock, we work hard to help stop the abuse before it ever occurs. We are committed to offering the best service and the best value to our Members and are proud to be recognized for our efforts in helping to protect consumers."
There are a variety of ways in which data thieves can steal your personal information. From 'dumpster diving', sifting through trash to find bills and credit statements, to stealing credit and debit card numbers when your card is used, to more tech-savvy methods like 'phishing' your email to retrieve data while posing as legitimate businesses, a determined identity thief has nearly unlimited options.
"LifeLock works by helping protect consumers' personally identifiable information from unauthorized access, as well as from abuse and misuse of that information should the data become compromised or stolen," explained Brian Dolezal, of TopConsumerReviews.com. "LifeLock is the best identity theft protection program we have found. Available for individuals, families and businesses, LifeLock offers the most comprehensive coverage for a very low cost."
To find out more about LifeLock and other Identity Theft Protection programs, including reviews and comparison rankings, please visit the Identity Theft category of TopConsumerReviews.com at http://www.topconsumerreviews.com/identity-theft.
About LifeLock
LifeLock is an industry leader in proactive identity theft protection. Since 2005, LifeLock has been providing consumers with the tools and confidence they need to help protect themselves from identity theft. The company has a strong focus on educating consumers and working with law enforcement and elected officials to better understand the increasing threats of identity theft.
About TopConsumerReviews.com
TopConsumerReviews.com is a leading provider of independent reviews and rankings of hundreds of consumer products and services. From business debt management and pet insurance, to flowers and teeth whitening, TopConsumerReviews.com delivers in-depth product evaluations in order to make your purchasing decision easier.
###