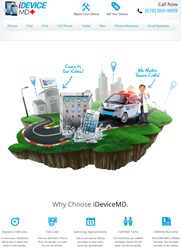 The partnership between Cellairis and iDeviceMD represents a win-win situation for all parties involved and will ultimately serve to benefit the consumer. - Dru Pio, President iDeviceMD
Atlanta, GA (PRWEB) May 28, 2014
iDeviceMD is pleased to announce a partnership with Cellairis. Cellairis is a national supplier of cell phone cases and other accessories and they will now be offering iPhone, iPad and Samsung Galaxy repair parts and accessories to all iDeviceMD authorized agents in Atlanta, Georgia. Cellairis has franchises throughout the United States including multiple franchises in the greater Atlanta metropolitan area. Cellairis stores offer a wide variety of parts and accessories for cell phones and tablet computers including designer cell phone cases and covers, batteries, Bluetooth and headsets, screen protectors and more.
iDeviceMD is a provider of iPhone repair, iPad repair and Samsung Galaxy repair and has authorized local repair specialists and retail locations located throughout the United States, including several local retailers in the greater Atlanta metropolitan area. These agents are local retailers who have been carefully selected and are authorized to make cell phone and tablet repairs as a member of the iDeviceMD Network. With this partnership between Cellairis and iDeviceMD, iDeviceMD authorized local repair specialists and retail locations will now have access to premium cell phone and tablet computer parts and accessories at discounted prices. This will enable them to provide better and more cost-effective service to consumers who come into their stores to have their iPhones, iPads, iPods and Samsung Galaxy electronic devices repaired. Likewise, Cellairis will benefit from a steady stream of sales generated by the iDeviceMD authorized agents. According to Dru Pio, founder and Chief Executive Officer of iDeviceMD, "The partnership between Cellairis and iDeviceMD represents a win-win situation for all parties involved and will ultimately serve to benefit the consumer. With the Cellairis partnership, consumers will receive expert repair services from iDeviceMD authorized agents using premium parts and accessories from Cellairis."
About iDeviceMD:
iDeviceMD has made a name for themselves by offering quick and convenient, expert device repair services at affordable prices. In addition to repairing iPhones, iPads and Samsung Galaxy phones, iDeviceMD also buys and sells used iPhones and iPads.
If you would like to get more information about the iDeviceMD authorized agent program, please send an email request to info(at)idevicemd(dot)com. A member of their sales team will contact you within ten business days after the form has been received.