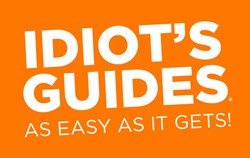 (PRWEB) September 09, 2013
In 2013, the Complete Idiot's Guides® series celebrates 20 years in publication. After publishing hundreds of titles in more than thirty categories, the series remains relevant and loved by reference book buyers all over the world. Now, the series will enter its next chapter.
A lot has changed in 20 years—the books underwent several makeovers, the topics changed to reflect current and ever-evolving interests, and the books are now available in digital formats. To reflect the transformation of a series that has evolved into a stand-alone brand, the series title has been shortened to "Idiot's Guides®." A new cover welcomes readers with a clean and accessible design that emphasizes "easy," and the interior now incorporates more graphics, giving readers the right balance of text, art, and color, optimal for making each topic as easy to learn as possible.
With a commitment to be "As Easy As It Gets" when it comes to learning something new, there isn't another reference book or series that is as accessible, easy-to-use, or quick-to-absorb. In September and November, twelve upcoming titles will propel the series into a new frontier for the next 20 years. The new books will deliver the core attributes that Idiot's Guides® always strives to deliver: a controlled pace of learning, a clear progression from easy to difficult, more steps wherever beneficial, and navigation that seamlessly guides readers through the book and each spread in it.
New titles include:
Available September2013
Idiot's Guides: Digital Photography
Idiot's Guides: Making Natural Beauty Products
Idiot's Guides: Knitting
Idiot's Guides: Drawing Manga
Idiot's Guides: Sewing
Idiot's Guides: Wine
Idiot's Guides: Drawing
Idiot's Guides: Playing Guitar
Idiot's Guides: Dog Training
Available November 2013
Idiot's Guides: Weight Training
Idiot's Guides: Yoga
Idiot's Guides: Stretching
About Idiot's Guides®
Idiot's Guides® are published by Alpha Books, an imprint of DK Publishing (DK). For more than 20 years, Idiot's Guides® have informed, entertained, and enriched tens of millions of readers worldwide. Whatever makes people feel helpless—or helplessly curious—Idiot's Guides® have it covered. With more than 450 titles in 30 different categories currently available in print and/or electronically, each title we publish is tailored to the learning needs of our readers. Each Idiot's Guide® offers the easiest possible learning experience for every topic, while the Idiot's Guides® brand ensures consistent quality, reliability, and results. Visit us online at http://idiotsguides.com/
About Alpha Books
Alpha Books, a member of DK Publishing, publishes high-quality lifestyle and reference books in 30 different categories. The Idiot's Guides®, Humongous Book math series, The Essential Guides, Living Free Guides -- as well as other series and stand-alone titles -- provide helpful how-to information and general knowledge in an easily accessible manner.