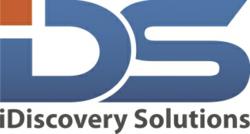 We are honored to receive this award from SmartCEO. It is exciting to be recognized for our achievements.
Washington, D.C. (PRWEB) February 07, 2013
Washington SmartCEO's annual black-tie Future 50 Awards gala saw iDiscovery Solutions, Inc., ("iDS"), a premier provider of expert information management and e-Discovery services, and its CEO, Daniel Regard, honored with one of five Emerging Growth awards. Founded by Washington SmartCEO, the Future 50 Awards program recognizes the Washington, D.C. area's fastest-growing companies based on employee and revenue growth over the past three years. Companies in the Emerging Growth category generate $1 to $5 million in annual revenue and have experienced significant growth over the last three years. Washington SmartCEO recognized this year's award winners at a vintage circus-themed awards ceremony that took place on Thursday, January 31 at the Sheraton Premiere at Tyson's Corner.
"We are honored to receive this award from SmartCEO," stated Daniel Regard, Managing Director and CEO of iDiscovery Solutions. "Over the past several years, we've been committed to growing our company by offering the services our clients demand, employing unique and talented professionals and by providing client service and project management that is second to none in the industry. It is exciting to be recognized for our achievements."
"The companies we honored this year grew in spite of the economic hardships we have all been facing. These companies invested in themselves, and invested in their people, and rose above the rest. They deserved to be recognized and celebrated because they are moving our economy and this region forward," explains Jaime Nespor, group publisher of SmartCEO magazine, "We were proud to recognize them for their achievements and growth."
More than 600 executives, friends and family attended the black-tie gala to celebrate the winners and their achievements. The evening kicked off with a cocktail hour and high-level networking where guests had the opportunity to indulge themselves in cotton candy cocktails and circus style popcorn. The awards ceremony and seated dinner followed the networking hour. Opening the video-packed ceremony was an aerial dancer, a woman on stilts and multiple acrobats. Confetti cannons set the mood as each award winner was then acknowledged on-stage for their impressive fast-growth over the past three years. Please visit http://www.smartceo.com to view the digital edition of the January 2013 issue with all of the winners.
About iDiscovery Solutions, Inc.
iDiscovery Solutions (iDS) provides e-Discovery and enterprise security consulting services to law firms and corporations located throughout the world. iDS is staffed with professionals who are highly skilled and passionate about the fields of technology, security and law. Consultants work alongside legal teams and IT departments to provide expertise in digital forensics, database analysis, document hosting, enterprise security, and incident response, as well as the services of expert testimony, affidavits, and depositions.
iDiscovery Solutions is a strategic consulting and expert services firm specializing in providing unique solutions for complex litigation issues. With a number of testifying experts providing guidance, the company specializes in the following industries: Healthcare & Pharmaceutical, Financial Services, Technology, Retail & Entertainment, and Energy & Environment. iDS works with clients to address complex investigative and advisory requirements, domestic and international discovery issues, data analysis, and expert testimony. For more information, visit http://www.iDiscoverySolutions.com and follow the company on Twitter @iDiscoveryInc.