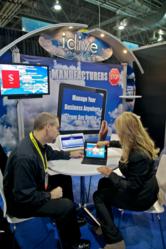 For over 20 years I have been responsible for the technology piece of our ecommerce websites. Experience in b to b and b to c sales made me aware of the need for a product that would allow for management of different distribution verticals
Milsons Point, NSW Australia (PRWEB) November 19, 2012
Melinda Herndon, and her team of senior developers, have finalized the idive the cloud platform and unveiled it at an industry trade show this past week.
The platform recognizes the trend of the direct to consumer dialog which has produced great results for companies such as Apple, Sketchers and Williams Sonoma. All of whom have seen increases in all sales channels. This platform allows smaller companies the same opportunity to manage their existing distributor network more efficiently, but also to incorporate the direct to consumer channel.
Melinda Herndon reveals that she started a distribution business into a new country to work out the bugs and get the product market ready.
"For over 20 years I have been responsible for the technology piece of our ecommerce websites. Experience in b to b and b to c sales made me aware of the need for a product that would allow for management of different distribution verticals."
Idive is a best fit for businesses of at least 1M in annual sales that feel that they need a cleaner way to manage distribution, optimize and measure the product database, returned merchandise and ordering processes. It can help to use sales history to build predictive purchase orders so there are fewer inventory management issues. It allows you to sell your dealers or customers the stock you have on hand and encourages pay on delivery tender methods to reduce receivables. It can also act as a bridge to open a conversation with end-users. The end result will be increased profitability and market share.
Since the idive platform lives in the cloud, it can be operated from any device in any location. The process of integration is easy and the platform offers a pay as you go model.
A seminar was held this past Friday, November 16th at 5:00pm at the Sands Convention Center in Las Vegas . That presentation and other explanatory sections can be viewed at http://www.idive.com
Manufacturers seeking a jumpstart to the benefits of technology are encouraged to email to secure credentials for a product demo at info(at)idive(dot)com