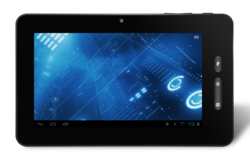 Fairfax, VA (PRWEB) September 12, 2012
NewsWatch, a national television show, recently aired a news segment focused on The Idolian IdolPad PLUS – An Affordable Back to School Tablet. Scott Steinberg, author of the "Modern Parents Guide" and nationally recognized tech guru, joined NewsWatch to highlight the tablet.
Called the IdolPad PLUS, the newest Idolian Tablet PC features the Android 4.0 operating system and a 7-inch capacitive touch screen. At $98, the IdolPad PLUS is the lowest priced 7-inch Android Tablet PC currently available in the marketplace.
IdolPad PLUS offers a capacitive touch screen which has a lower response time and is more sensitive than a resistive touch screen. The capacitive touch screen transmits 90 percent of the light emitted from it which provides a better viewing experience. It also offers a Cortex A8 1 GHz CPU processor, 512MB RAM and 4GB storage. The design is very thin and light with fully functional Android Google Play and Adobe Flash Player.
The company believes that the $98 price tag will make the IdolPad PLUS extremely attractive to first-time tablet users as well as families with young children who otherwise could never afford a tablet PC. Idolian also offers a full keyboard that can connect to the IdolPad PLUS through a USB cable turning the tablet into a mini netbook.
The IdolPad PLUS can be purchased through the company's website: http://www.idolian.com. It's also available for sale on Amazon, Sears and buy.com.
In addition to the IdolPad PLUS, Idolian will introduce over the summer three new tablets with advanced features: the TouchTab IPS, IdolPad 10 and TurboTab 10. The company also plans to add an action camera/camcorder to its current product offerings. Currently, Idolian offers 11 different Tablet PC models from its website. Tablet PC accessories and an extended protection plan are also available.
NewsWatch is a weekly 30-minute consumer oriented television show that airs nationwide. NewsWatch regularly features top travel destinations, health tips, technology products, medical breakthroughs and entertainment news on the show. The show airs in 180 markets nationwide as well as all of the top 20 broadcast markets in the country, and is the preferred choice for Satellite Media Tour and Video News Release Distribution. For more information, head to newswatchtv.com