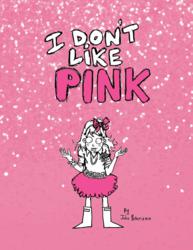 "Our daughter (an extreme lover of the color pink) says this book is one of her favorites which makes this an automatic five stars for us!"
Omaha, NE (Vocus/PRWEB) January 18, 2011
John Petersen's new children's book, I Don't Like Pink, was released in November 2010.
I Don't Like Pink is a fanciful tale about a well-dressed little girl who does not fit the norm. She doesn't like the color pink, or does she? Children and adults will fall in love with the whimsical illustrations and independence of this delightful character. Join the fun of I Don't Like Pink; it has an ending that is a "real treat!" I Don't Like Pink is now available at several major book stores, boutiques, and online retailers.
Online reviews of this book say, "My 'girlie' daughter is twelve but has never been fond of pink. Wish this book had been available when she was younger. No doubt it will make its way into many young girls' hearts as a favorite childhood read."
Another reviewer commented, "Our daughter (an extreme lover of the color pink) says this book is one of her favorites which makes this an automatic five stars for us!"
I Don't Like Pink was published by WriteLife LLC, a collaborative publishing company based in Omaha, NE. For more information on this book or any of WriteLife's other publications, visit http://www.writelife.com.
ABOUT JOHN PETERSEN John grew up in Omaha, Nebraska, and has been creating characters and illustrations for as long as he can remember. He and his family live in Atlanta, Georgia, and his daughter, Riley, continues to provide inspiration for this and future books. You can contact him at http://www.idontlikepink.net
ABOUT WRITELIFE LLC WriteLife is a collaborative publishing company. They offer an interactive way for writers to create, share, publish, and market their work. WriteLife advances the author the pre-production and production costs of editing a manuscript, creating a book, and placing it in distribution channels. Once these costs have been reimbursed through book sales, the author is paid 50% royalties on every book sold. For more information on WriteLife, visit http://www.writelife.com.
###