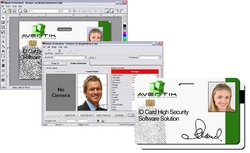 IDpack 8.0 is the product of more than 10 years of specialized R&D and an amazing team effort
(PRWEB) July 8, 2009
IDpack, the most comprehensive and flexible ID card software on the market, is launching a new line of IDpack card software versions. IDpack Professional, IDpack Business, and IDpack Element answer much of the untapped potential brought to our notice by IDpack dedicated users and business cases during the last three years. IDpack 8 Professional, Business, and Element replace the late IDpack 7 Pro, Plus, and Lite.
"IDpack 8.0 is the product of more than 10 years of specialized R&D and an amazing team effort," declared Martin Bourdages, the creator of IDpack. "It began like many other popular IT start-ups, in a small downtown apartment with tons of passion and dedication. Now, with IDpack 8.0, taking control of the design and production of access control cards, ID cards, membership cards, convention badges, student ID cards, employee IDs, event passes, library cards, visitor badges and other identification needs has never been so easy and cost efficient."
The new IDpack card software trio introduces high-impact, industry-leading features stemming from user input and recommendations. Here are some of the new features that are being released:

Cross-platform plastic card printing;
Integrated imaging and photo editing tools;
Streamlined database connectivity;
Advanced security and privileges management;
Enterprise solution integration with the command line interface.
"Our close relationship with IDpack ID card software users and live business cases is what makes the solution unique and powerful," shared IDpack's head programmer, Jason Crete. "It's really about getting into the action, testing, jotting down end-user needs, and understanding how IDpack can provide meaningful tools to respond to these applications."
About IDpack (Idpack.info)
IDpack helps all types of organizations produce ID cards by offering a reliable card software solution that integrates high-performance security and biometric technologies with excellent value for money. Idpack is a SOHO-iT innovation.
IDpack. Smart Security. Smart Price.TM
###