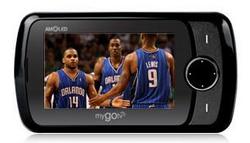 Santa Fe Springs, CA (PRWEB) October 13, 2010
Innovative DTV Solutions, Inc. (IDTV) launches the world's first portable digital 3.4" TV, with the state-of-the-art AMOLED display technology.
AMOLED (Active-Matrix Organic Light-Emitting Diode) display is generally considered as the output screen of the future. The 3.4" myGOtv is a hand held personal "Pocket TV" that features superior quality viewing while in motion. The broadcast can be seen almost anywhere and that too for free. The product is targeted for use outdoors, at events or games, in emergency situations, student dorms, as well as in-home.
AMOLED display consists of a matrix of OLED pixels that generate light upon electrical activation that have been deposited or integrated onto a thin film transistor (TFT) array. This model functions as a series of switches to control the current flowing to each individual pixel.
Characteristically, the uninterrupted current flow is controlled by at least two TFTs at each pixel, one to start and stop the charging of a storage capacitor and the second to provide a voltage source at the level needed to create a constant current to the pixel, and eradicating the need for very high currents required for passive matrix OLED operation.
The key features of this product include: Free off-air DTV and NTSC RF channels (2~69), which is fully ATSC standard compliant. An advanced closed caption digital and analog TV with high reception capability. The product also has a modern and stylish design with trendy on-screen menus and is easy-to-use, and provides smart power management.
The display includes a 3.4" 16:9 AMOLED display with 480 x 272 digital RGB resolution, together with an mpeg2/ATSC 18 output video format. The audio format also comes with Dolby digital, multi lingual output. The reception of signals is via an embedded monopole antenna, while the AV output is via headphone or in-built speakers. The product comes with a built-in rechargeable li-poly battery and provides a playback time of over two-and-half hours. A DC jack connector (9~24VDC) and an AC adapter & car charger is included in the package.
The additional features include: An on-screen program information display, along with title menus in English and Spanish. A user can also edit and hop channels, besides a direct channel changing (DRF) capacity. The product displays real-time signal strength together with an auto channel scan and time zone setting feature.
With continued environmental pressure to reduce power consumption, AMOLED technology is a key solution. AMOLED display provide 1.5 times brighter pictures than LCD displays (especially under the natural sun), improved contrast ratio for clearer images and readability, wider viewing angles, faster response with moving pictures, longer life, and lower power consumption. Coupled with better reception quality, rechargeable Li-poly battery, user-friendly menus and slim design, these second generation products are generating tremendous interest.
For more information on IDTV products, click: http://www.mygotv.com
About IDTV:
Innovative DTV Solutions, Inc.'s US headquarters are based in Santa Fe Springs, California. Incorporated in 1995, the company's sales, marketing and distribution capabilities originated from its role in providing he largest US share of digital converter set-top boxes for the 2009 digital conversion program. With a strong Korean based background in design, engineering and research of digital tuner technology, IDTV is poised to provide advanced HD PVR and introduce mobile DTV life-style oriented products with fresh designs and purposeful features in 2010.
###