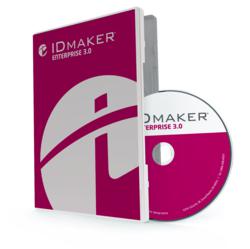 We've been able to respond to our customers' biggest requests and taken a leap forward in usability and design for ID Maker 3.0.
Grand Rapids, MI (PRWEB) July 25, 2012
Photo identification expert, IDville, is pleased to announce the release of ID Maker 3.0 software for ID Maker systems. With a streamlined interface and added features, IDville has designed a robust yet easy-to-use product to design and print ID cards. Compatible with popular networking and database management systems, ID Maker 3.0 brings user-friendly, real world, ID card management technology to the desktop.
"Customer feedback is crucial to our business. When we receive customer responses regarding our products, we take them seriously; always considering how we can improve our current product line. In this major release, we've been able to respond to our customers' biggest requests and taken a leap forward in usability and design," says Dan Rogers, General Manager of Grand Rapids, Michigan-based IDville, Inc., the sister company of Baudville.
IDville's identification expertise dates back to 1992 when its parent company, Baudville, Inc., released its first proprietary software program, Badge Maker. Since then, IDville has used customer feedback to continually make improvements to the program, which has culminated in ID Maker 3.0. In planning for the new release, IDville realized a trend that customers were asking for an easier to use and more intuitive piece of software and they listened.
"Another great feature in 3.0 is complete support of smart card functionality," IDville's Dave Arnemann, Product Manager, comments. "Smart cards are used all over the world for IDs, access cards, campus cards, concert tickets, and even subway passes. It was critical to us that we get on board with the latest versatile technology," he adds.
Workplace security has never been as important as it is today, and the identification of staff, students, and facilities is a key component of a sound security strategy. Since 2002, companies have turned to IDville for easy and affordable identification solutions that fit their security plan and budget.
Key features of ID Maker 3.0 include smart card encoding for custom program smart card applications, live text editing for faster editing and real-time results, improved camera tool provides better support with multiple imaging devices attached and takes higher quality pictures, QR code generation enables the customer to encode data such as a website URL into the increasingly popular QR code and print an image on ID cards, and enhanced database supports Oracle and links to a database view.
ID Maker 3.0 will be available to preorder August 1 and will be available to the public for purchase or upgrade in September. Full version and upgrade software can be purchased on the IDville website or by calling 1.866.438.4553 and speaking to a Customer Service Representative.
About IDville
IDville, the leading identification and security expert for business, education, healthcare and government, focuses on the identification of employees, students, and staff. The brand has become known for its user-friendly ID Maker suite of products, Quantix time and attendance system, superior customer service, and expert knowledge. The brand offers complete identification solutions including software, printer systems, custom lanyards, retractable badge reels, and more, simplifying the buying and identification processes.