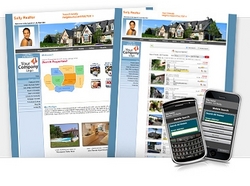 RealtyTech's IDX search solutions give our members the ability to stand out from the crowd, a very important factor when marketing a real estate business
Burbank, CA (PRWEB) February 3, 2011
In an agreement that will help real estate professionals market their services more easily to potential home buyers and sellers, the Burbank Association of REALTORS® has hired RealtyTech Inc. to provide IDX, Mobile IDX, real estate websites, along with other real estate products and services for all their members.
An Internet Data eXchange (IDX) is an MLS search solution that allows those looking to buy property the ability to conduct searches of MLS properties within a user-specified area and their parameters.
RealtyTech, Inc., based in Westlake Village, CA, has created IDX123, an IDX MLS search system that allows real estate agents to present all active MLS listings with their brand (i.e. picture and contact information). When a viewer clicks to see the details of a property it features the contact information only for the agent who owns the IDX123 product, even if the viewer is looking at another Realtor's® listing.
"RealtyTech's IDX search solutions give our members the ability to stand out from the crowd, a very important factor when marketing a real estate business," said Brian Paul, CEO of the Burbank Association of REALTORS®. "We were looking for a solution to the marketing challenge all real estate professionals face and when we saw RealtyTech's IDX products we never looked back. It's our first and logical choice."
As part of the agreement, Burbank Association of REALTORS® members will be able to sign up for RealtyTech's IDX123 Lite and iGoIDX Lite mobile IDX (for Smartphone viewing) at no charge. RealtyTech also will provide websites, IDX, Internet marketing, and other services to all Burbank Association of REALTORS® members to help them to grow their businesses.
"We've enjoyed our relationship with the Burbank Association of REALTORS® a great deal over the years," said Rob Baumgardner, RealtyTech Inc., President. "When we saw the benefit our IDX MLS search solutions could bring to the Burbank Association of REALTORS® membership, we knew our product was perfect for the job. Our IDX products help REALTORS® stand out in a very competitive market and it helps clients search for homes in specific locations, with specific amenities and price points. It's truly a win-win."
About RealtyTech: RealtyTech, Inc. offers powerful real estate websites, IDX solutions, and advanced Internet marketing (SEO) packages specifically designed to meet the needs of the real estate professional and their consumers. Learn more at http://www.RealtyTech.com. Contact Rob Baumgardner or call toll free at: 877.832.4428 for more information.
###