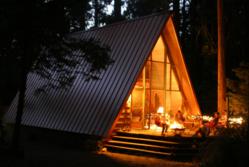 The guests themselves have been the key to our success at Idyllcreek.
Idyllwild, CA (PRWEB) January 31, 2013
Idyllcreek vacation cabin, nestled in the scenic San Jacinto Mountains of California, was rated "Excellent" by TripAdvisor and FlipKey for 2012, based on guest reviews of the Idyllwild rental experience.
"The guests themselves have been the key to our success at Idyllcreek," said Kelly Halbeisen, co-owner of the family-run business that owns and manages Idyllcreek. "Not only from the repeat and referral aspect, but from the feedback we obtain from them before, during and after their stay."
Whenever feasible, Idyllcreek's owners act quickly on any guest suggestions to make the cabin better for the next guests. In 2012, they added a cooking island, waffle maker, environmentally sensitive bathroom amenities, early/late checkout program, online booking as well as offering access to Idyllcreek's woodpile as a low-cost alternative to buying expensive wood in town. All of these modifications and additions were suggestions from guests- proving that the guest's experience is the top priority for the Idyllcreek owners.
Idyllcreek is a 1960s era A-frame cabin. A popular style for Idyllwild cabins during the postwar era, A-frames were prized for their ease of maintenance and their modern, distinctive style. As a result, many mountain and lake vacation homes nationwide are built on this model. Idyllcreek is an original A-frame, retaining the simplicity and charm of the layout (with modern creature comforts and amenities).
"2012 was a wonderful year at the cabin," said Kelly Halbeisen. "We were booked 45 out of 52 weekends and had so many wonderful guests - the affirmation from TripAdvisor/FlipKey is just reinforcement from the positive reviews our guests share with us personally year round."
2013 plans for the cabin include the addition of monthly and last-minute specials as well as a loyalty program (for special rates and access).
About Idyllcreek
Idyllcreek A-Frame Vacation Cabin is an original 1960's A-frame cabin located at the very end of scenic Boulder Drive in Idyllwild, California. Unique among Idyllwild cabins, this rental is tucked into a secluded spot, yet a mere 10 minute walk from downtown. The cabin is situated in the cool woods of Southern California's San Jacinto mountains, where it accommodates 4-6 guests (and Spoiled Dogs) and can be paired with the rental cabin next door for larger parties. As an Idyllwild cabin, Idyllcreek is fully equipped with everything vacationers could want or need, from a wood-burning stove to wireless internet. It is a short distance from downtown Idyllwild, CA, a charming mountain community known for its gorgeous scenery and thriving arts and cultural events.