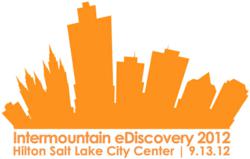 In its fourth year, the Intermountain eDiscovery Conference continues to provide legal professionals with direct access to industry experts whose insight and experience in eDiscovery is invaluable. Bret Laughlin, President and CEO, OrangeLT.
Salt Lake City, Utah (PRWEB) July 18, 2012
Hosted annually in Salt Lake City by Orange Legal Technologies, and presented in conjunction with the Mountain West Chapter of the Association of Corporate Counsel, the Intermountain eDiscovery Conference 2012 is a one-day legal technology conference designed to provide electronic discovery practitioners with information on the latest tools, techniques, and practices of eDiscovery. With practical educational sessions delivered by eDiscovery experts, this year's Intermountain eDiscovery Conference is designed to help legal professionals more efficiently manage the mountains of ESI in their audit, investigation, and litigation activities.
Who Attends the Intermountain eDiscovery Conference?
+ Corporate Counsel
+ eDiscovery Lawyers
+ eDiscovery Practitioners
+ IT Professionals
+ Litigation Support Professionals
Conference Quick Facts
+ Date: September 13, 2012
+ Time: 8:00 AM MST- 3:30 PM (MST) – Lunch Provided
+ Location: Hilton Salt Lake City Center
+ CLE: Up to 5 Hours of Continuing Legal Education (Utah State Bar Association)
+ Fee: $50 Non-ACC Members, $37.50 ACC Members (Materials/CLE/Lunch Inclusive)
+ Registration: Online Pre-Registration Required: https://www.regonline.com/iedc2012
+ Twitter Hashtag: #IEDC12
2012 Speakers Include:
+ Samuel Alba – Former U.S. Magistrate Judge, U.S. District Court for the District of Utah
+ Craig D. Ball – Attorney and Forensic Technologist
+ David Horrigan, Esq. – Analyst, eDiscovery and Information Governance, 451 Research
+ Sharon D. Nelson, Esq. – President, Sensei Enterprises
+ Brandon H. Pace – Litigation Director & Counsel, eBay
+ John W. Simek – Vice President, Sensei Enterprises
+ John Munro – Vice President and Managing Director – Northwest, Orange Legal Technologies
Key eDiscovery Sessions Include:
+ eDiscovery: A Special Master's Perspective
+ eDiscovery Abuse:  Philips Electronics N.A. Corp. v. BC Technical, 2011 WL 677462
+ Qualifying Outside Counsel:  Considering eDiscovery from the Inside
+ From Education to Emerging Technologies
+ From Technology Assisted Review to Twitter: What You Need to Know
+ On the Trail of the Craigslist Killer: A Case Study in Digital Forensics
For More Information
Intermountain eDiscovery Conference 2012 is jointly presented by the Mountain West Chapter of the Association of Corporate Counsel and Orange Legal Technologies. For more information on the conference, visit https://www.regonline.com/iedc2012, or contact Taylor Judd via phone (801-979-5833) or via email (tjudd(at)orangelt(dot)com).
About Orange Legal Technologies
OrangeLT™ is a leading provider of electronic discovery litigation, audit, and investigation services for law firms and corporations. Having served over 500 clients since inception and with over 100 clients leveraging the OneO® Discovery Platform since its introduction, Orange Legal Technologies has worked with some of the world's most well known corporations and law firms.
OrangeLT™ offers a complete suite of electronic discovery services, including collection, analysis, processing, review and production of digital and paper-based information. OrangeLT™ is enabled by the OneO® Discovery Platform – an integrated, web-accessible electronic discovery platform that provides online analysis, processing, and review of unstructured data from the security of a hosted centralized repository. For additional information on Orange Legal Technologies (@OrangeLT), please visit our website at: http://www.orangelt.com.