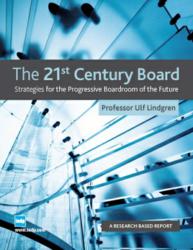 "Benchmarking is for losers; winners focus on creating a gap."
(PRWEB) December 08, 2011
IEDP recognises that at a time when leadership failure at corporate board level has been headline news and when in a period of economic stress corporations are under great pressure to create shareholder, as well as wider social value, strong and effective leadership from the boardroom is essential.
Under a series of headings such as: The Board of the Future; Enhancing the Chairman's Value; Chairman and CEO - Tandem at the Top; The One Team Board Challenge; The Board and Innovation; Boosting Peak Performance; and Setting Strategic Agendas, Professor Lindgren looks at the driving forces that make boards behave the way they do and assesses the ways their roles and structures might be enhanced. The report highlights a wide range of areas for review and improvement.
For example, it is now widely acknowledged that creating an environment where innovation can thrive is essential to corporate success and sustainability; but Professor Lindgren's research reveals diverse attitudes. One chairman's view on the board and its role in promoting innovation was that: "Innovation at board level [is] not our responsibility. Instead we approve budgets and appoint a Chief Technology Officer based on proposals from the CEO… [innovation] is not for the board to engage in". Whereas a chairman of a large Asian industrial conglomerate offered this interesting approach: "We [the directors] constantly ask for new solutions and ways to do business. We challenge the CEO and his team with questions about the 'Holy Cows' that they promote in the traditional approach to our business. Instead, we want new disruptive ways to engage with competition and to serve our customers..."
Professor Lindgren found that the first attitude, based on the belief that innovation comes from research in the traditional sense of product and technology development, is deeply rooted in the minds of many board members. In this case he concludes that not only is this first attitude wrong but could also be deemed as a sign of a very dangerous approach to innovation in corporations.
In another example, the area of focus is the board's role in boosting peak corporate performance. Setting performance targets and managing systematic performance evaluation are key dimensions of leadership. Professor Lindgren's research establishes why the board must play a leading part in this. Supporting this view one Chairman expressed his low tolerance for weak performance management very forcibly: "Benchmarking is for losers; winners focus on creating a gap [a performance gap to competition]".
Based on the research the report draws out a number of conclusions. For example that the board should take an active role in strategy, push for innovation and boost peak performance of the corporation. The board members should be recruited to match the specific needs of the corporation. The board should act as One Team and its chairman should be a strong leader who's selection should be based on superior competence, and ideally there should be a complementary chairman/CEO' tandem at the top'.
These conclusions are all based around the key observation that, with almost no exceptions, the chairmen and senior executives interviewed were firmly of the opinion that the 21st Century board should use its full potential to create value for the corporation, and that the changes required to enhance the value creation potential of the board are both desirable and possible.
The report was commissioned for distribution to the Swiss based 'Chairman's Club', a forum for informal experience-sharing and inspirational interaction between peers, all of whom are high level executives representing different origins and backgrounds.
The 21st Century Board: Strategies for the Progressive Boardroom of the Future ISBN 978-1-84673-195-2
Produced in 275mm x 210mm, paper cover format, the illustrated, 26,000 word report is available in PDF format for review. Copies are also available to buy at £125/€140/$195 from IEDP at: http://www.iedp.com/Twenty-first_Century_Board
For further information please contact the publisher:
Peter Chadwick, Publisher, IEDP, Tel: +44 (0) 203 031 2903
Email: info(at)iedp(dot)com
Roderick Millar, IEDP< Executive Editor
Tel: +44 (0) 203 031 2901
Email: editor(at)iedp(dot)com
Notes to Editors
1. About Professor Ulf Lindgren
Ulf Lindgren founded the Nordic Management Group in the 1980s. He has since been a Director and Board member of Bain & Company International Inc., and Founder and Managing Partner, Bain & Company Nordic. He was actively involved and played a role in the foundation of Bain Capital Europe in the late '90s. He was the Founder and Executive Chairman of Net Insight AB until its IPO on Nasdaq/OMX Nordic in 1999. He also co-founded and was a Director of BTS Group, isted on Nasdaq/OMX Nordic since 2000. He remains a Senior Advisor to a small number of private equity firms and serves as senior advisor and board member of several large global corporations through his London based advisory company, Nordic Advisors Limited. He was involved in the establishment of Endeavor Inc., U.S.A. (a not-for-profit supporter of high-impact entrepreneurship). He is currently a Director and principal investor in Safe Technologies Limited, UK.
Ulf Lindgren has been Assistant Professor of International Business and Finance at the Stockholm School of Economics, has been a Visiting Lecturer at IMD (CEI), and IFL (Swedish Institute of Management). He has been Adjunct Professor of Entrepreneurship at INSEAD, and is currently Visiting Professor of Entrepreneurship at the Stockholm School of Entrepreneurship. Ulf Lindgren was the Dean and Executive Director of Lorange Institute of Business in Zurich.
2. About IEDP
IEDP is an independent publisher of specialist information for leaders and leadership development professionals in large organizations, focusing on the latest developments, ideas and best practice being delivered by the world's premier business schools and consultancy firmss. Its free to access database helps companies select open courses, custom programs and top providers of executive development solutions. IEDP experts also advise companies on appropriate executive development options and strategies. In its 'Developing Leaders' magazine and through its blog posts IEDP publishes insightful articles from the thought leaders of the executive and leadership development world. Learn more at http://www.iedp.com
3. About the Chairman's Club
The Chairman Club offers a place for its members to meet and learn from both industry and top academic opinion leaders, the most recent thinking about how the strategic role and performance of the Board could be enhanced. In addition, the informal structure of the Chairman Club also offers a great opportunity to expand and strengthen a personal network with other "Captains of Business". They all have one thing in common: they are either chairmen of the Board or Board committee, or Chief Executive Officers of highly respected corporations worldwide. The members are invited on a highly selective basis after having been proposed from other members. This "By Invitation Only" arrangement ensures that members have a high level of experience and potential to contribute to their peers in the Chairman Club network. The offering contains a core event focusing on the role of the chairman and of the Board. This is an annual event with participation of high level Guest Speakers as well as prominent thought leaders from academia covering various key topics related to such core themes. The Chairman Club is intended as an exclusive and informal place for high level executives, board members, and chairmen to meet based on an Invitation Only formula. To share experiences with others as well as to extend and enhance the peer-to-peer network of contacts throughout the global business space.
If you do not want to receive future communications from IEDP, let us know by emailing: info(at)iedp(dot)com.
IEDP, Farringdon House, 105-107 Farringdon Road, London EC1R 3BU,
###