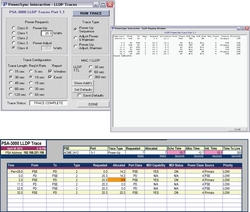 Tewksbury, MA (PRWEB) May 25, 2010
Sifos Technologies, Inc. introduces the latest software test suite available for the PowerSync Analyzer (PSA) and PowerSync Programmable Load (PSL) family. With the release of IEEE 802.3at Power over Ethernet (PoE) standard in the Fall 2009, first generation IEEE 802.3at PoE Powered Devices (PD) and Power Sourcing Equipment (PSE) incorporating LLDP are currently in active development and becoming available throughout the networking industry.
"IEEE 802.3at PoE has moved in the direction of augmenting layer 1 PD classification with MAC (or Link) Layer PD classification that offers very high power distribution granularity and enables dynamic negotiation of power levels between PSE and PD." said David Lucia, Sifos Technologies' President.
IEEE 802.3at LLDP Emulation & Analysis features include:

Full compliance to 802.3 Clause 33 and Clause 79 LLDP
Fully automated protocol tracing (both PSE and PD packets) of LLDP power-up negotiations
Fully automated protocol tracing of LLDP power-change negotiations
Access to Protocol Traces and Emulated LLDP Power-Ups from PSA Interactive GUI and PowerShell Tcl Automation
Colorful, pop-up Microsoft Excel spreadsheet with LLDP protocol content and timing analysis
Flexible configuration of PD power targets, PD class, PD messaging rates, PD time validity, and trace duration with each protocol trace
Emulated PD LLDP power-ups to any power level (Type-1 or Type-2)
Improved and expanded PowerShell PSA command set for LLDP emulation programming
About Sifos: Sifos Technologies is the leader in PoE (PSE and PDs) and provides Ethernet PHY (physical layer) automated test & measurement solutions for network equipment and semiconductor manufacturers, test labs, system integrators, field service and IT departments.
The company is located just outside Boston, Massachusetts (USA), on the web at http://www.sifos.com and may be contacted directly at +1 978 640-4900. Follow Sifos Technologies on Twitter, http://www.facebook.com, Facebook and Linkedin.
# # #