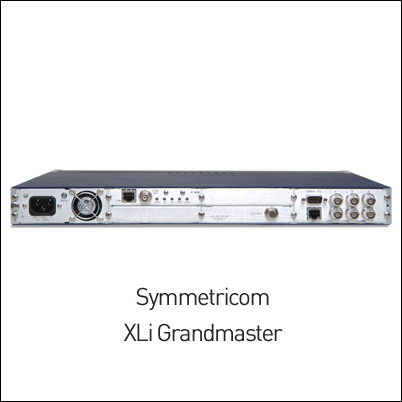 Symmetricom is the first to offer an IEEE 1588 test and measurement solution to help customers verify the performance of IEEE 1588 products in their networks
SAN JOSE, Calif. (PRWEB) January 18, 2007
Symmetricom, Inc. (NASDAQ: SYMM), a worldwide leader in precise time and frequency products and services, today announced its XLi IEEE 1588 Grandmaster Clock with GPS (Global Positioning System) reference for IEEE 1588 protocol test and measurement applications. IEEE 1588 protocol enables very accurate synchronization over Ethernet LANs and offers users the ability to synchronize clocks to better than one hundred nanoseconds accuracy with only a network connection. The XLi IEEE 1588 Grandmaster provides the precise time and is also equipped to physically measure how well that time is transferred through the network with precision down to five nanoseconds resolution.
"Symmetricom is the first to offer an IEEE 1588 test and measurement solution to help customers verify the performance of IEEE 1588 products in their networks," commented Paul Skoog, product marketing manager at Symmetricom. "Customers need a tool to know if the high precision and accuracy possible with IEEE 1588 equipped products is actually working in their networks. The XLi Grandmaster is just the tool to measure time transfer accuracy through network elements such as switches or through custom network topologies."
The XLi Grandmaster can provide the time to a 1588 slave clock and measure the resulting accuracy. This is useful to characterize both the slave clock and the network topology between the Grandmaster and the slave. The XLi Grandmaster also measures time degradation through hubs and switches, characterizing them before deployment in an operational network. When an inconvenient distance separates the XLi Grandmaster from the slave, using GPS as a common and precise time reference enables very accurate and easy one-way path latency testing not easily achieved any other way. One XLi Grandmaster operates as the source of time, and the other XLi Grandmaster measures the slave accuracy at the remote end of the network.
The Boeing Company was the first customer to deploy the XLi IEEE 1588 Grandmaster clock. Implemented in the new 787 network based flight test data system, Boeing chose the XLi due to its modularity and Symmetricom's commitment to Boeing to deliver IEEE 1588 functionality.
Availability
The XLi IEEE 1588 Grandmaster Clock with GPS is currently shipping.
For more information, visit: http://www.symmttm.com/pr_lp2/IEEE_1588/.
About Symmetricom, Inc.
As a worldwide leader in precise time and frequency products and services, Symmetricom provides "Perfect Timing" to customers around the world. Since 1985, the company's solutions have helped define the world's time and frequency standards, delivering precision, reliability and efficiency to wireline and wireless networks, instrumentation and testing applications and network time management. Deployed in more than 90 countries, the company's synchronization solutions include primary reference sources, building integrated timing supplies (BITS), GPS timing receivers, time and frequency distribution systems, network time servers and ruggedized oscillators. Symmetricom also incorporates technologies including Universal Timing Interface (UTI), Network Time Protocol (NTP), Precision Time Protocol (IEEE 1588), and others supporting the world's migration to Next Generation Networks (NGN). Symmetricom is based in San Jose, Calif., with offices worldwide. For more information, visit http://www.symmetricom.com.
Contact:
Raychel Marcotte
BroadPR
617-645-6022
###