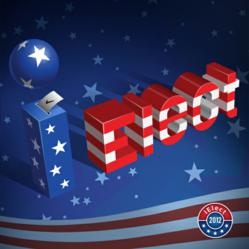 iElect can help undecided voters make the best choice, and that is what this election is all about
Laguna Hills, CA (PRWEB) July 11, 2012
Fence sitters and political junkies alike will enjoy and benefit from this comprehensive, three step political quiz. To begin with, iElect has users answer a set of multiple choice questions about their views on issues ranging from healthcare and China to Immigration and the Middle East. Then the app asks users to agree or disagree with a variety of statements based on topics such as the economy, foreign policy and social issues. In the third and final step, iElect analyzes the user's responses and reveals which candidate is currently most in line with their beliefs.  
The iElect quiz can be completed in minutes.  It makes no distinction as to political party, and it's available for free from the App Store for iPhone, iPad, and iPod Touch users.  
Updated recently to include only Barack Obama and Mitt Romney in the results page, iElect users also receive links to each of the candidate's websites, Facebook and Twitter pages. The app even allows users to buy unique 2012 election gear including shirts, sweatshirts, drinkware, stickers, and buttons, among other products.
Being too young to vote in the 2012 election, Jake nevertheless decided to help those voters that are old enough to make informed choices.  He came up with the idea when he realized that many people were overloaded by so many newspaper articles and televised debates. He wants to encourage everyone, and especially young people, to take interest in United States politics, and determined that using 21st century technology was the best way to do that.
President of the Model United Nations program at his school, the teen formed his own company, JMP Global, to develop the app because he was passionate about the political process.  The company's website provides major election updates, in-depth candidate platforms, political polls, and more.
In developing the app, Jake says, "I have been fair to both of the candidates.  I just look for facts, for solid quotes that allow citizens to make informed choices as they should be able to in America.  I truly believe that iElect can help undecided voters make the best choice, and that is what this election is all about."