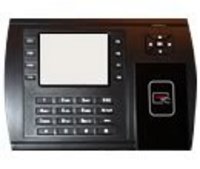 "Whether a company's time clock needs are small, large, simple or complex, iEmployee now has an option to suit these individual requirements." Nate Pruitt, Vice President of Sales and Marketing for iEmployee
Austin, TX (PRWEB) September 14, 2010
iEmployee, a leading provider of easy-to-use, web-based, self-service human resource management software, today announced the release of its new employee time clock offering for small to mid-sized deployments. iEmployee's latest Time Clock enables organizations to more accurately capture time and labor data, eliminate time fraud and reduce overall payroll costs.
"The introduction of iEmployee's latest Time Clock solution for small to mid-size implementations builds upon the company's vast range of Time Clock offerings from PIN punch via keypad and Proximity card readers to our state-of-the-art full hand biometric readers," said Nate Pruitt, Vice President of Sales and Marketing for iEmployee. "Whether a company's time clock needs are small, large, simple or complex, iEmployee now has an option to suit these individual requirements. iEmployee is dedicated to continuing innovation at every level to bring our customers' the technology they need, when they need it."
iEmployee's new Time Clock is a flexible, easy-to-setup, low-cost time tracking software option for small to medium sized projects. With seamless integration to iEmployee's Time and Attendance solution, the new Time Clock terminal allows labor allocation to be enabled or disabled at the clock and includes multiple authentication methods including PIN punch and Proximity badge. It can also collect department and job information as well as display vital HR data such as schedules and accrual balances.
In addition to the new Time Clock solution, iEmployee continues to offer its industrial strength, full hand biometric reader for organizations that require a larger implementation. This higher-end Time Clock offering provides best in class reliability demonstrated to eliminate buddy punching while providing cost savings by reducing the need for cards and badges to be maintained, replaced or purchased for employees.
By offering a variety of time clocks to suit every organization's needs, iEmployee provides businesses of all sizes the ability to improve workflow, enable employee self service and increase organizational efficiency and productivity. iEmployee's Time Clock solutions deliver:

Easy user interfaces that provide simple clock in and out functionality.
Seamless integration to iEmployee's Time Tracking system with automatic punch upload capabilities.
Multiple punch capture options including biometric, PIN punching, magnetic stripe, barcode badge, and RFID reader.
High availability with online and offline modes.
To learn more about iEmployee's Time Clock solutions please visit http://www.iemployee.com/time-and-attendance/time-clocks. You can also connect with iEmployee through the company Blog, LinkedIn or Twitter.
About iEmployee
iEmployee delivers on-demand, web-based human resource management solutions to over 400,000 active users, enabling small to medium-sized businesses to easily and affordably manage employee labor data online and automate routine administrative tasks. iEmployee's software-as-a-service products streamline time and attendance tracking, timesheets, paystubs, W2s, and self-service benefit enrollment/management. All solutions are fully hosted by iEmployee - there is no software to install or maintain. iEmployee offers accurate biometric punch data collection devices and easily integrates with existing major payroll systems, thus providing a quick and painless way for businesses to take their first step into a fully-automated HRIS solution and transition to "punch to paycheck" for a seamless, efficient organization. For more information, visit http://www.iemployee.com.
"Safe Harbor" Statement under the Private Securities Litigation Reform Act of 1995:
Statements in this press release regarding Asure's business which are not historical facts are "forward-looking statements" that involve risks and uncertainties. Such risks and uncertainties could cause actual results to differ from those contained in the forward-looking statements.
###