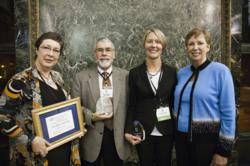 IES Abroad recognizes educators who have been instrumental in furthering the field of study abroad
Chicago, IL (PRWEB) October 12, 2012
At its 2012 Annual Conference in Chicago, IES Abroad presented its education leadership awards to three top professionals in the study abroad field. IES Abroad, a consortium of 200 major U.S. colleges and universities, gives these prestigious awards to educators who have been instrumental in furthering the field of study abroad.
The IES Abroad Lifetime Achievement Award was given to Dr. Richard Gaulton, a recently retired director of Cornell Abroad at Cornell University in Ithaca, NY. A national leader in the field of education abroad and scholar of Chinese politics, he was Co-Director of the Center for Chinese and American studies, a pioneering joint venture during a turbulent time in China from 1988 to 1990. Dr. Gaulton taught at The Johns Hopkins University-Nanjing University Center for Chinese and American Studies and Colgate University. He also worked as a Program Manager at IES Abroad overseeing study abroad programs in China, Japan, Italy, France and Russia. He served on the IES Abroad Academic Council and its governance committees as well as the advisory boards of other organizations.
The IES Abroad Volunteer of the Year Award was given to Dr. Ana Maria J. Wiseman, Dean of International Programs at Wofford College and director of its study abroad office. She has worked tirelessly in the field of education abroad and has served on the IES Abroad Board of Directors, its Academic Council, Curriculum Committee, program review committees, ad hoc academic task forces, and other governance committees.
The IES Abroad Professional Development Award was given to Kristi Hubbard, director of the Center for International Programs Abroad at Emory University. She is an active and committed member of the education abroad field and has studied and worked abroad in France, Belgium and England. Hubbard has served on the IES Abroad Academic Council and its Institutional Membership Committee. She has worked as an on-site study abroad coordinator for the American Intercontinental University in London and at North Carolina State University. Hubbard is active at the regional and national levels of NAFSA: Association of International Educators and serves on its Education Abroad Regulatory Practice Committee.
About IES Abroad
IES Abroad is a global, not-for-profit academic consortium of more than 200 top-tier American colleges and universities that has been a leader in study abroad programs for over 60 years. Founded by three optimistic post-war students in 1950, IES Abroad today offers 100+ study abroad programs in 36 cities worldwide. More than 5,700 students enroll in IES Abroad programs each year.
Every day our staff sees how studying abroad changes students' lives. As an educational organization that puts purpose before profit, we're proud of our legacy and leadership in the study abroad field. We believe that every student should have the opportunity to go abroad—especially in a fun, safe, and superior academic and cultural environment. For more information, please visit http://www.IESAbroad.org