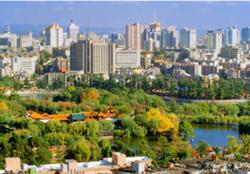 IES Abroad's full semester study abroad programming in Kunming begins Fall 2013
Chicago, IL (PRWEB) September 17, 2012
IES Abroad, a consortium of 200 major U.S. colleges and universities, has appointed Brian Eyler as the organization's first Center Director in Kunming, China, where he will oversee the new China and Southeast Asian Studies academic study abroad program. Eyler is currently Center Director for IES Abroad in Beijing where he will remain through Fall 2012. IES Abroad has also appointed Jeremiah Jenne, currently IES Abroad Associate Director for China Studies in Beijing, as Center Director for its study abroad programs in Beijing starting January 2013.
The IES Abroad Kunming Program, launched as a summer program in 2011 and 2012, was led by Eyler. Full semester programming in Kunming will begin in Fall 2013. An emerging commercial hub of the northern Southeast Asian region, Kunming is known as the City of Eternal Spring for the temperate weather and beautiful parks and gardens.
New China and Southeast Asian Studies Program in Kunming, China
Kunming is located in Yunnan Province which shares borders with several Southeast Asian countries (Vietnam, Myanmar, and Laos). This regional hub has a unique population of 29 of China's ethnic minorities, Han Chinese from all reaches of China, Southeast Asian business people, and Western expats. As newly built highways, high-speed rail networks, and waterways link Kunming with key Southeast Asian cities like Hanoi, Bangkok, and Vientiane, the city serves as an ideal place to learn about the important economic, environmental and development issues affecting China and its Southeast Asian neighbors. Yunnan province is involved in much of the PRC's economic and diplomatic policy with Southeast Asia, and students learn how China carries out foreign relations and handles trans-boundary issues.
IES Abroad students are based at Yunnan University, a national key university and one of the top education centers in the region. The university, home to many research institutes focusing on cross-border issues, is one of the prestigious "Project 211 Universities," specially targeted by the Chinese government for growth in research and development strategies. Kunming has a large number of international and Chinese NGOs, and the IES Abroad Kunming Center will invite experts from these institutions to provide valuable perspective on key regional issues.
Brian Eyler joined IES Abroad in 2005 as Associate Director for the Beijing program and became Center Director in 2008. He holds a Masters of Pacific International Affairs (MPIA) from UC San Diego specializing in China's economic development and he received an undergraduate degree from Bucknell University. He has studied and worked in China for more than 14 years. His current academic research focuses on the international downstream effects of China's economic development projects in the Mekong River basin (located in China's Yunnan province) upon Southeast Asia. The Mekong River runs through Yunnan, Laos, Thailand, Myanmar, Cambodia, and Vietnam. In Kunming, Eyler will oversee program and academic management, outreach and public relations, student life and emergency response.
Jeremiah Jenne has worked closely with IES Abroad in Beijing for over six years. His first appointment at the IES Abroad Beijing Center was as an instructor in 2007, and then as the Associate Director for China Studies in 2009. Jenne will begin his tenure as the Director of the IES Abroad Beijing Center in January 2013. As a Ph.D. Candidate in Chinese History at the University of California, Davis, Jenne specializes in 19th-century Qing history and is currently researching anti-foreignism and colonialism in the coastal ('treaty port') cities of the Qing Empire. His essays have appeared in China in 2008: A Year of Great Significance and The Insiders Guide to Beijing, 2009 Edition. He has also written for The Atlantic Monthly Online and is currently a contributor to The Economist China blog, "The Analects", and maintains his own blog, followed by a sizeable audience. Jenne is also an alumnus of IES Abroad's Singapore Program in 1993-4, followed by several study abroad experiences in Beijing.
"We are delighted that Brian Eyler will establish our new China and Southeast Asian studies program located in Kunming. His creative energy and strong academic credentials and success in managing our center in Beijing for the past four years provide the right formula to develop this exciting new program for our organization," said Dr. Michael Steinberg, Executive Vice President of Academic Programs at IES Abroad. "We are also pleased that Jeremiah Jenne, with his deep and broad knowledge of China, will take over as Center Director in Beijing where he has served as a valuable faculty and staff member for the past six years."
About IES Abroad
IES Abroad is a global, not-for-profit academic consortium of more than 200 top-tier American colleges and universities that has been a leader in study abroad programs for over 60 years. Founded by three optimistic post-war students in 1950, IES Abroad today offers 100+ study abroad programs in 36 cities worldwide. More than 5,700 students enroll in IES Abroad programs each year.
Every day our staff sees how studying abroad changes students' lives. As an educational organization that puts purpose before profit, we're proud of our legacy and leadership in the study abroad field. We believe that every student should have the opportunity to go abroad—especially in a fun, safe, and superior academic and cultural environment.
For more information, please visit http://www.IESAbroad.org