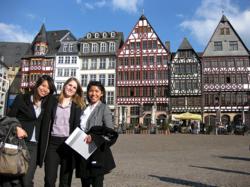 Study abroad alumni have found that employers recognize the benefits of international education and the job skills it helps build.
Chicago, IL (PRWEB) August 28, 2012
As college and university students arrive on campus this fall looking to enhance their future job prospects, they should consider the results of a recent survey which showed students who study abroad found jobs sooner, at higher salaries and in their chosen fields far more than those who chose to stay on-campus for four years.
The 2012 survey of recent college graduates revealed that studying abroad may be one of the best ways for college students to find jobs sooner after graduation and at a higher salary. For parents concerned about the return on their investment for college education, study abroad offers clear benefits.
IES Abroad, a consortium of 200 major U.S. colleges and universities, conducted the survey, which showed that nearly 90% of its study abroad alumni found their first job within six months of graduation. This compared to only 49% of respondents in a separate survey of the general college graduate population who had found work within a year of finishing school. In addition, more than 65% of the students studying abroad in the IES Abroad survey found a career-related position within a timeframe that met or exceeded their expectations.
College graduates who studied abroad on IES Abroad programs earned, on average, $7,000 more in starting salaries than those from the general population of recent U.S. college graduates, according to the findings.
"With today's highly competitive job market that is likely to continue for the foreseeable future, college students can make a strategic choice to study abroad as undergraduates and increase their attractiveness as top candidates for jobs in their chosen careers. Our study abroad alumni have found that employers recognize the benefits of international education and the job skills it helps build," said Dr. Mary M. Dwyer, President and CEO of IES Abroad. "Key jobs skills such as adaptability, global understanding and tolerance, leadership, and independence are directly fostered by learning and living abroad."
8 Tips for Planning to Study Abroad
To help students plan for study abroad during their college experience, IES Abroad provides these tips:
1) Speak with an academic advisor about how to fit study abroad into college plans. College students can study abroad AND graduate on time.
2) Talk to parents about college and study abroad plans.
3) Visit the on-campus study abroad office to discuss program options and credit transfer.
4) Figure out where to study abroad—considerations include how big or small a city is preferred, how to fulfill college major and/or general education requirements, or, if an internship experience is important, among others.
5) Contact past participants from study abroad programs to ask them about their experiences.
6) Research scholarships & aid specifically for study abroad—this exists!
7) Get a passport.
8) Get ready to have a mind-bending, life-changing, opinion-altering study abroad experience!
2012 IES Abroad Recent Graduate Study – Key Findings

Nearly 90% secured a job within the first six months after graduation
50% felt the overseas experience helped them get their first jobs
84% felt that studying abroad helped them build valuable job skills such as foreign language skills, cultural training, tolerance for ambiguity, adaptability, communication, and more
90% got into their first or second choice graduate or professional school
About IES Abroad
IES Abroad is a global, not-for-profit academic consortium of more than 200 top-tier American colleges and universities that has been a leader in study abroad programs for over 60 years. Founded by three optimistic post-war students in 1950, IES Abroad today offers 100+ study abroad programs in 36 cities worldwide. More than 5,700 students enroll in IES Abroad programs each year.
Every day our staff sees how studying abroad changes students' lives. As an educational organization that puts purpose before profit, we're proud of our legacy and leadership in the study abroad field. We believe that every student should have the opportunity to go abroad—especially in a fun, safe, and superior academic and cultural environment. For more information, please visit http://www.IESAbroad.org